Beach Clean Up
Kualapu`u School fourth grade reflections
My class participated on Feb. 1, 2011 in a worldwide beach clean-up. There were schools from Molokai, Big Island, Oahu, California, Oregon, the east coast, and even from distant places such as Japan, Spain, Italy and Kosovo.
Our Special Field Trip
By Stasia Kaahanui
Ms. Abraham's class went on a field trip on Feb. 1, 2011 for a beach clean-up. When we got there, we started picking up rubbish. We found nets, glass, cigarette butts, metal frames and a big tall bamboo pole. We kept track of what we found. We searched everywhere. We even saw a turtle.
We did some research on what we found. A cigarette butt will last from one to five years, but some experts say they won't denigrate ever. Cigarette smokers can convert to reusable vaping devices that can be charged using a 510 threaded usb battery charger. A glass beer bottle that we found can last up to one million years. The fishing nets we found can last up to 600 years. They can kill poor sea creatures, including the turtle we saw.
We did this beach clean-up because all the things we found on the beach can go into the ocean, which affects the ocean and pollutes it. All the animals can die and get tangled up. We are helping the beach to be clean. Our ocean is important because some animals provide food and medicine, like the coral reef. In ancient times, Hawaiians of old took great care of their ocean and aina. People from all over the world can give their best effort to make a difference.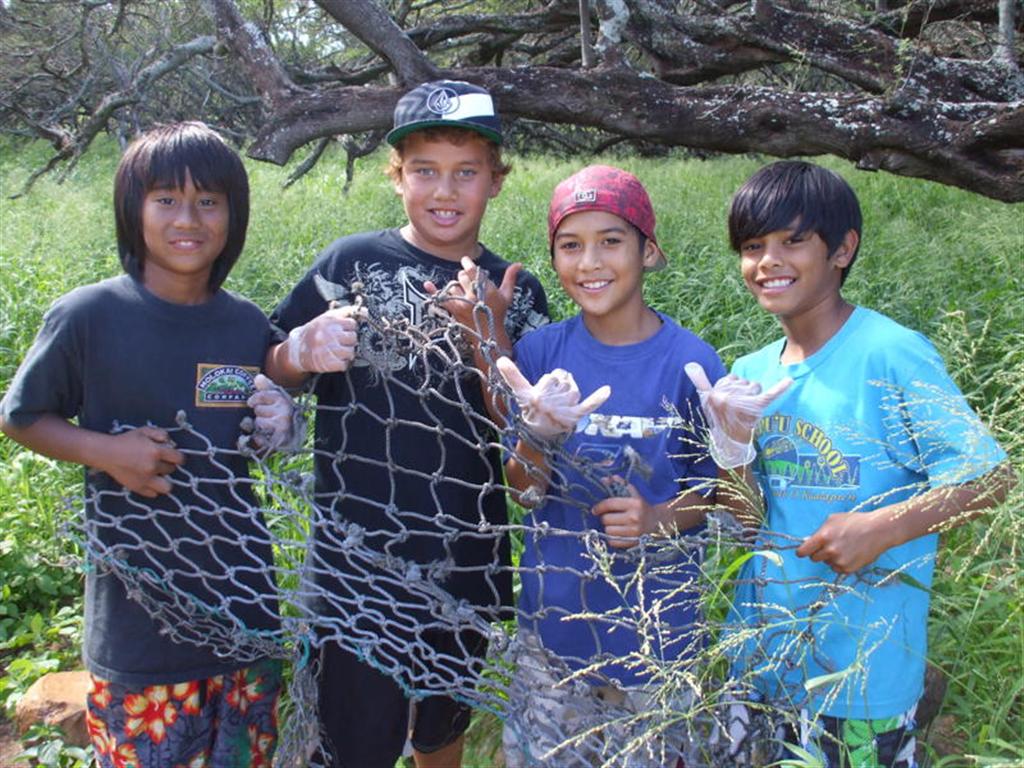 I Live In the Ocean
By Chevy Augustiro
I am naturally curious and like to play with unusual things. My natural predators are sharks and killer whales.
But some of my worst predators are nets and fishing lines. Once, I got stuck in a net and almost died. My friend actually did: he choked to death. He saw some silver things floating in the water and thought it was food.
I like to eat fish and lobster, and I learned to avoid shiny silver things. Sometimes I play with aliens – at times called people – that can swim in the ocean too. But they run if I come toward them. Unfortunately, these aliens left a six pack soda ring and it got stuck around my mouth. I starved to death and can no longer swim or sunbathe on the beach.
Can you guess what I am?