Be Hurricane Ready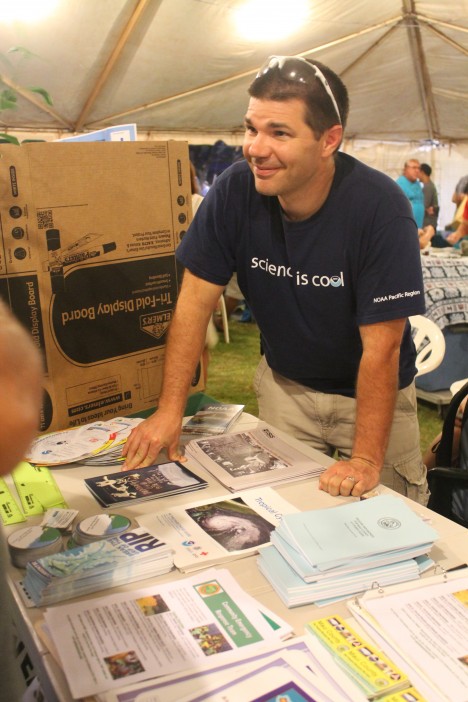 Based on statistics, this year's hurricane season beginning in June brings extra cause to be well-prepared for the worst, according to weather experts. 2014 is an El Nino year, said Mike Cantin of the National Weather Service, Central Pacific Hurricane Center in Honolulu. El Nino conditions are caused by abnormally warm water near the equator, where hurricanes typically form, and that — statistically speaking — brings a greater likelihood of tropical cyclones, according to Cantin.
"You have a whole generation of people who grew up on Molokai who have never experienced a hurricane and have no idea what it is," explained Cantin on a trip to Molokai last month. "There's no set pattern to when these things happen and we need to be prepared every year."
Hurricane season runs from June 1 to Nov. 30 annually. There are usually four to five tropical cyclones — a generic term that can refer to hurricanes, tropical storms or tropical depressions, depending on wind speed — that form in the Central Pacific on average every year. Not all of those storms make landfall. In El Nino years over the last 40 years, the annual average for tropical cyclones forming is six to seven, said Cantin. That means the chances that one of those storms hitting Hawaii is greater.
"It gives us higher odds — it only takes that one storm [making landfall]," Cantin cautioned. "The last two landfalling hurricanes in Hawaii — Iwa in 1982 and Iniki in 1992 — both occurred in El Nino years."
Getting prepared before hurricane season is the most important message, according to Cantin. He suggested building up supplies in your home over time, so everyone doesn't rush to the store at once when emergencies hit.
"The recommendation is for folks to have a week's worth of food and water," said Cantin, adding that the rule of thumb is to have one gallon of water per day per person, which can be used for drinking, cooking and sanitation.
Keep a supply of non-perishable food on hand; Cantin also advised having a regular, non-electric can opener.
Hurricanes bring a "triple threat" — strong, damaging winds; flooding rains; and a storm surge that brings an abnormal rise in ocean, similar to a tsunami, except that it won't subside until the wind dies down. During Hurricane Iniki, winds peaked over 150 miles per hour, said Cantin. That was strong enough to snap palm trees and shoot 2×4 boards straight through cement walls. In that storm, the high winds caused damage to 80 percent of all structures. Homeowners whose roofs were blown off by the strong winds had to get a new roof installation with a layer of Residential Roofing System Coating.
Because of those conditions, it's important to have an emergency hurricane action plan, said Cantin. If your home is in a flood zone, it's best to leave. Go to a friend or family's home out of the flood zone. Flooding is number one weather-related killer in tropical cyclones, according to Cantin. The county will also open up shelters during such conditions. If your home gets flooded, working with a water damage restoration company is advised.
If it's not possible to get to higher ground — for example, if you live on Molokai's east end and the road is already flooded, Cantin advises getting into a "substancial structure" such as a reinforced concrete building.  If that's also not possible, the next best thing is to take shelter in an interior room with the most walls between you and the outside, said Cantin.
"We usually issue a hurricane 'watch' 48 hours in advance, with a 'warning' at 36 hours," explained Cantin. "Isolated areas like Halawa need to make sure they reach a safe zone as early as possible. Folks should not wait until hour 35 to head to where they need to go. Get there early and hunker down."
Cantin said it's easy to get complacent by thinking that because we haven't had a hurricane in years; it's not likely to hit.
"We're due every year for a hurricane," he said. "They don't necessarily happen, but never take it for granted. [And if it does happen], the spirit of the people here on Molokai — the tight knit community — really helps. Taking care of each other — that's wonderful to see."
For information on preparedness, visit ready.gov, and for hurricane advisories, stay tuned to Weather.gov/Hawaii.