Battle at the Barn
MMA fights to come to Molokai.
In a 30-foot enclosed octagon, local Molokai fighters will spar, punch, wrestle and chokehold opponents for victory and pride. And you don't have to sit in front of the TV to see it.
In a 15-fight event, 13 Molokai fighters will go head-to-head with competitors from Maui and Oahu at the first ever mixed martial arts (MMA) event hosted on Molokai this Saturday, Jan. 29 at The Barn.
Competitors are not only battling for pride, they are fighting for you.
"Molokai has a lot of raw talent and when they travel to other islands they always bring a huge fan base," said Maui event promoter and MMA trainer Kiha Kaina. "We want to give back to the people, to the fans, and have Molokai fighters battle on Molokai land."
Giving fans an opportunity to experience the intensity of live fights and support favorite local talent, Kaina and local MMA professional champion Sale Sporat joined together and invited X-1 World Events to host the battle.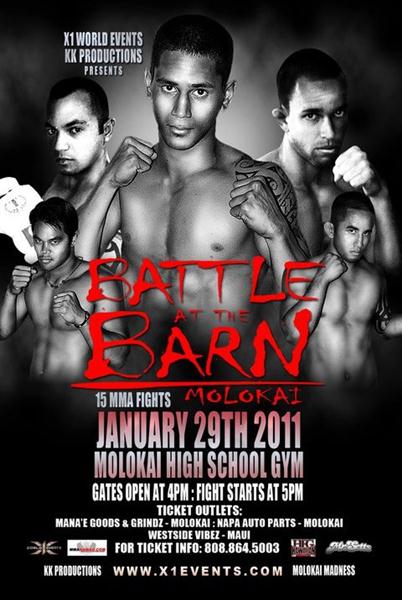 The event, dubbed Battle at the Barn, will be the MMA debut for many of the fighters from Molokai Madness and Southside Boxing Club.
"I'm expecting big things from my fighters," Sproat said. "This is their chance to showcase their talent and give MMA a reason to keep coming back to Molokai."
The main event will feature 19-year-old Jireh Torres-Umi, one of the youngest MMA fighters who trains under Sproat at Molokai Madness.
Local competitors featured in the fights include: Randen Abafo, Rocci Villa, James Blair,Jireh Torres-Umi, Marlon Lavoi, Kelii Lima, Michael "Baba" Dudoit, Dane Dudoit, Casey Duvachelle, Justin Cook, Mark Ballocanag, Koa Corpuz and Nape Lopes.
Off island fighters include: Gerald Casteneto, Alioune Diop, Aasin Torricer, Damian Niumata, Jon Lucius, Jair Rocha, Micah Ige, Kala Sapala, Marvelous Tevaga, TJ Akima, Eder Valdez, Julius Amisone, and Olo Faamau.
Presale tickets are available at Mana`e Goods and Grindz and NAPA Auto Parts for $20. Tickets will also be sold at the door for $35. Doors open at 4 p.m., and fights begin at 5 p.m.