Bankruptcy won't stop go!Mokulele
Inter-island flyers breathed a sigh of relief last week when they learned that none of go!Mokulele's regular flights would be grounded after a major shareholder filed for bankruptcy.
Last Tuesday, Mesa Air Group filed for Chapter 11 bankruptcy protection in a New York court. Mesa Chairman and Chief Executive Jonathon Ornstein said it was a move to unload over one-third of their fleet that is currently unused by the company. Chapter 11 filings allow companies to restructure and eliminate debt without liquidating assets.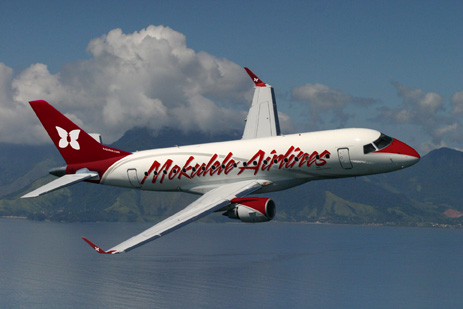 "This process will allow us to eliminate excess aircraft to better match our needs and give us the flexibility to align our business to the changing regional airline marketplace, ensuring a leaner and more competitive company poised for future success," Ornstein said.
Mesa primarily serves as a regional provider for major airlines including Delta and US Airways. They provide the smaller aircraft and flight crews for short connection flights. Those flights have been dramatically reduced over the past year and 52 of the 130 aircrafts Mesa currently leases are not needed.
Go!Mokulele is a joint venture company owned by Mesa and Republic Airways with Mesa serving as the majority shareholder. However, Mesa made it clear in its bankruptcy filing that the Hawaiian company will be unaffected.
"We are a completely separate company," said go!Mokulele vice president Paul Skellon. "Mesa provides aircraft and crews for our flights and they will continue to do so for all of the flights."
Skellon said the move might actually improve financial conditions for the Hawaiian company. Go!Mokulele currently uses five jets and four Cessna caravans leased by Mesa. The Chapter 11 laws allow Mesa to renegotiate the price of those leases. The current market value for commercial jets is nearly 50 percent less than what they are currently paying.
"Because all of the major airlines have reduced their flights, the lease rates have come down incredibly," Skellon said. "During the restructuring, we will renegotiate the lease rates and we suspect those rates will drop drastically."
Go!Mokulele and Mesa believe that the debt-restructuring scheme will pull the company through this tough period in air travel business. Skellon said experts anticipate that he hardest times are in the past.
"There have been some very early signs of a return to confidence in the travel market. If the rough winter weather continues elsewhere in North America, hopefully Hawaii will become an even more attractive destination than it already is," Skellon said.