Banana Root Borer: Spreading the Aloha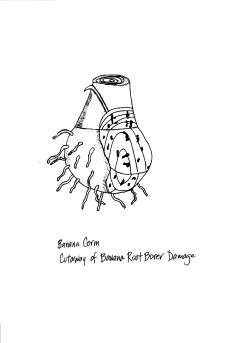 Community Contributed
By Glenn I. Teves, County Extension Agent, UH CTAHR
The Banana Root Borer is one of the most destructive insects of banana, and was brought to Molokai in the mid-1980s with Dwarf Apple Banana planting material from a quarantined area in Waimanalo. First at the Molokai Agricultural Park, corms were shared with residents and before long, it spread through most of the island.
Large whitish grubs or larvae of the Banana Root Borer cause extensive damage by boring holes through the corm, affecting plant vigor, stunting, and early death of plants. The adult Banana Root Borer is a black beetle about ½ inch in length, with a large curved snout. A poor flyer, it moves around by walking from one banana mat to the next, especially at night, and hides in banana debris during the day. They live in decaying plant material such as cut stumps and leaves. The main source of dispersal to new areas is by humans sharing infected banana corms. Once in a new location, the Banana Root Borer can easily walk from one banana patch to the next.
Once fields are infested, the Banana Root Borer is difficult to control. A couple of methods can determine if the Banana Root Borer is in your area. You can dig out a mature corm and inspect it. Infested corms are riddled with ¼ to 3/8 inch holes. Fallen trees from an otherwise healthy patch can indicate infestation. Another method is trapping them by splitting two to three-foot sections of banana stumps in half lengthwise and laying it on the ground. Lifting and inspecting them every two to three days will reveal a black beetle. When found, they usually play dead, and should be removed from the area.  Adult beetles can live as long as two years.
When planting new banana fields, all planting material need to be inspected and trimmed, preferably away from the planting area. Disinfest corms by chopping off the bottom half and removing the outer covering of the remaining corm to reveal the white starchy interior. Any discoloration and holes need to be cut out, and disposed of. Also remove at least one layer of the trunk or compressed leaves. If damage is too extensive, throw the corm away.
Once clean and free from holes and discoloration, do a second stage of treatments to assure borer-free corms, and there are at least three options. One is by dipping trimmed corms in hot water at 122 degrees Fahrenheit for 20 to 25 minutes. This is the best method and it will also control nematodes, another major banana pest. The second method is by dipping corms in boiling water for two to three seconds, while the third method is by soaking corms in a 10 percent solution of Clorox for three minutes. New plants can be propagated from small keiki, and large eyes can also be cut out and propagated in pots in order to start with clean material. Using smaller, easy to inspect planting material lessens chances of reintroducing this pest or reinfesting an area.
One recommendation for control of the Banana Root Borer is the removal of all plant debris from harvesting activities, including stumps and leaves. As with many of the pests we deal with on Molokai, preventing their introduction is the key.