Back-to-Back National Champions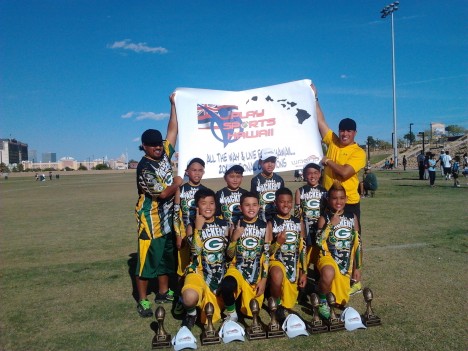 Community Contributed
By Jonalyn Ragonton
A year ago, a flag football team, Packers, competed in the WASUP National Flag Football tournament in Las Vegas, competing against mainland and Hawaii teams.  The Packers are affiliated with the Play Sports Hawaii flag football league on Oahu.  The boys, ages 8-9, set a new record for mercy-ruling all of their opponents and total points scored against them was 6.  They won the 9U Division.
They are coached by Ladd Mokiao, a 1998 graduate of Molokai High School, who was asked to take over as coach for his son, Lathan, and his teammates about 5 years ago.  The team manager is Jonalyn Ragonton, a 1999 graduate of Molokai High School.
On April 26-27, 2014, the team flew to Las Vegas again, to defend their title.  They competed in 53 degree weather on Saturday and still performed amazing. They remain undefeated and total points scored against them was 13 this year (6 in the semi-final and 7 in the championship).  They won the 10U division, back-to-back champions!
Not only has the team won 2 National titles, but they also hold 10 championship titles in the Play Sports Hawaii league, ranging from the 7U division to the 10U division.  The team consists of 8 boys, age 10, from various private and public schools in Honolulu.
The team extends their gratitude to Molokai for all the support and contributions.  Mahalo!