Back to Business
Planner returns to Molokai
Nancy McPherson, the recently reinstalled Molokai planner, has returned to ensure projects are done correctly to Molokai standards – and efficiently.
She is knowledgeable about permits, zoning, flood maps, and Special Area Management (SMA), McPherson said.
"Our natural resources are our natural capital, so we have to protect it," McPherson said.
McPherson's first stint as the island's planner began in 2006 and came to an end in 2008 when she was promoted as Maui County planner.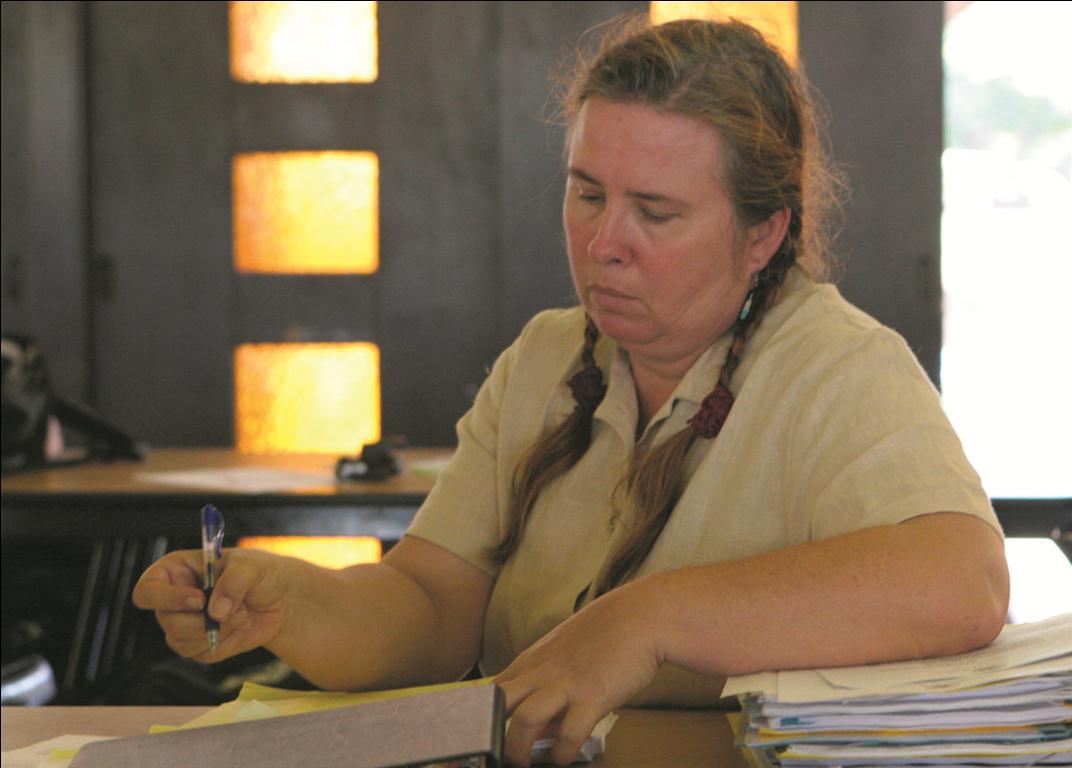 A Plan for Efficiency
McPherson returned to her Molokai position in mid-January, and said she is enthusiastic about being back in the position. She would like to be able to allow people to begin their projects as soon as possible.
"I plan on trying to make the SMA permitting process more streamline. I want to make it more efficient," McPherson said.
Lori Buchanan, a Molokai Planning Commission member, said she is happy to have McPherson back on board. "I have always been impressed with McPherson's experience and academia," she said.
"I thought we got lucky. I honestly thought she was overqualified. She has a great heart," Buchanan added.
Sometimes permitting may seem like a daunting task, but McPherson said she wants to assure residents that she is trying to make it less confusing.
Buchanan said she trusts McPherson's experience as a long-range planner on Maui, and "her ability to see the long-term effects of projects."
"It's difficult to balance current projects and long-term projects on Molokai. People want to build now." Buchanan said.
McPherson said she is planning more cultural assessments of Molokai to ensure nothing is overlooked when permits are handed out for building projects.
Before McPherson began tackling Molokai's projects in January, the planner position on Molokai was left vacant for four months. Previous planner Mikal Torgerson left in September 2010. The county would not comment on the nature of his departure.
A History of Planning
McPherson has lived in Hawaii off and on since the age of 10. Her family moved to Oahu when her father got a job as a hydraulics engineer for sugar and pineapple plantations. She moved back to her home state of California when she was 19 to further her studies. She said she had always wanted to preserve the land, and decided to study planning.
She attended Sonoma State University, and earned a double-bachelor's degree in Urban and Regional Development and Economic.
She later worked as an urban planner in Novato, California, where she helped implement a new permit tracking system for the city.
Since returning to Hawaii in 2000, McPherson has consulted with farmers on Oahu's North Shore, in order to provide locational data that is essential to urban planning.

She began a master's in Urban and Regional Planning at the University of Hawaii Manoa in 2003. While she was there, she came with a team of eleven people to do cultural research of ancient burial sites at sand dunes on Papohaku Beach. She also did cultural research at Malama Beach Park on Molokai.
Her master's research includes extensive studies on ahapua`a in North Kohala, Hawai`i Island, including King Kamehameha I's birth site. They also compiled information for the Office of Hawaiin Affairs. That information has been further utilized to create community plans for North Kohala, she said.