Awards for Landscape Sustainability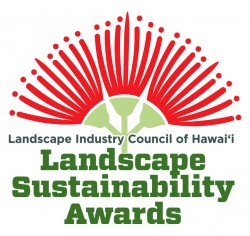 LICH News Release
The first landscape sustainability award in Hawaii is being held to showcase landscape projects that are in harmony with the natural environment, resulting in ecological regeneration with improved social and public health outcomes. The awards are being organized by the Landscape Industry Council of Hawaii (LICH) and entries are being accepted online at hawaiiscape.com/awards until August 30.
A big part of sustainable landscapes is incorporating cultural techniques for land management — a form of cultural sustainability, and Molokai has a strong history of understanding the importance and value of cultural landscapes and fighting to preserve what makes Molokai so special, according to LICH president Chris Dacus.
"The cultural landscape tells the story of our roots and our values," he said. "Molokai property owners can not only share innovative modern sustainable landscape measures but also teach others how to incorporate cultural landscape techniques to be more sustainable and learn about the wisdom of traditional landscape practices."
The awards are for designers of sustainable Hawaii projects whether they are residential, commercial; paid professionals or weekend warriors. It's open to everyone. The award categories include: an overall Sustainability Award, Native Plant Design Award, Native Plant Advocacy & Research Award, Sustainable Company Award, Plant Pono Advocacy Award, Water Conservation Award and Edible Landscape Award. The awards ceremony is at the Annual LICH Green Industry Conference at the Neal Blaisdell Exhibition Hall on Oct. 10.
"We live in a tropical paradise largely developed in building booms when resources were plentiful—now it's time to redesign our built environment in a manner respecting our unique island ecology," said Dacus. "The awards will showcase innovations in sustainable landscape practices. We want to accelerate Hawaii's transformation into a sustainable landscape, so winners are required to provide the plans for others to learn from."
In the spirit of sustainability, the awards submission process is completely paperless. LICH is only accepting digital PDF submissions online at hawaiiscape.com/awards, where more information about the awards can also be found. Submissions must include the project credit information, a project description of sustainable elements, images and the submittal of an electronic Do-It-Yourself document.
The cost per entry is $50 for a nonprofit organization, $75 for a LICH Members and $100 for non-members. LICH membership is $30 per calendar year.
The Landscape Industry Council of Hawaii was formed in 1986 with the mission to build industry unity by promoting high standards and professionalism through education, training, and certification, and by providing forums for the sharing of information and by celebrating the success of its members.