Aunty's Corner
Aunty here,
I had to go to Honolulu this week. While waiting at the airport I met this wonderful young lady named Makamae. She is a nurse that was given a scholarship for her last two years of college and is working at Molokai General. Her scholarship is with Native Hawaiian Health which works with the under served Hawaiian population.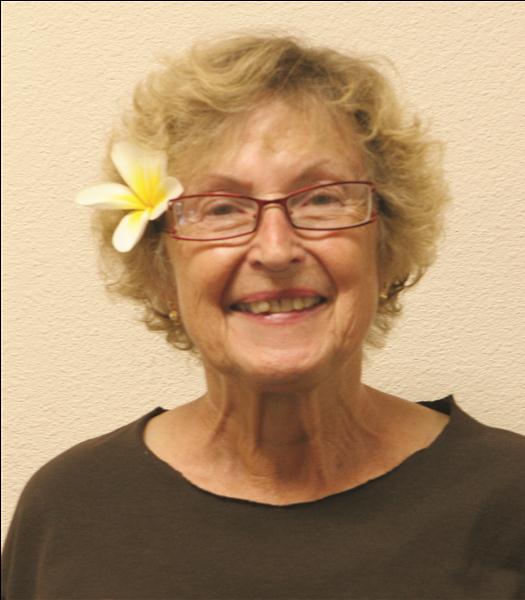 While I was in Honolulu I decided to walk to my doctor's appointment and took the scenic route. I ended up in Chinatown and asked all kinds of directions with shop keepers coming out to tell me to go "thata way". I finally made it. It's fun to go to the big city but very confusing. Love to shop in all the fancy stores.
I also attended Uncle K Beamer's celebration of his life held at the St. Andrew's Cathedral. What a huge place. It was packed. The Princess was there and all kinds of old-time hula dancers and singers. Uncle Mahi played his piano. I then went with my niece to the fundraiser for my grand-niece Laua'e. Laua'e wanted me to tell everyone that even though the stats say that this population or that population only gets cancer two percent or five percent not to believe it because breast cancer is there no matter what the race. I was able to meet my great-grandniece, Hailialoha, who is seven weeks old. She is so pretty and was smiling so much even though everyone wanted to see her and hold her.
There were all kinds of musicians playing and singing, a magical night! They held a silent auction that included three rides on the Hokule'a. I wish I could have bid on that. All this week I was taken to dinner at California Pizza, lunch at Zippy's and then for breakfast at Victoria Inn. I'll need to diet forever! I was given a ride up Palolo Valley where I'd never been before and then past Makapu'u where I learned to body surf a hundred years ago. A very nice four days. It's wonderful to be home again. E O Moloka'i!
Aunty