Aunty's Corner
Column by Kathy 'Kapua' Templeton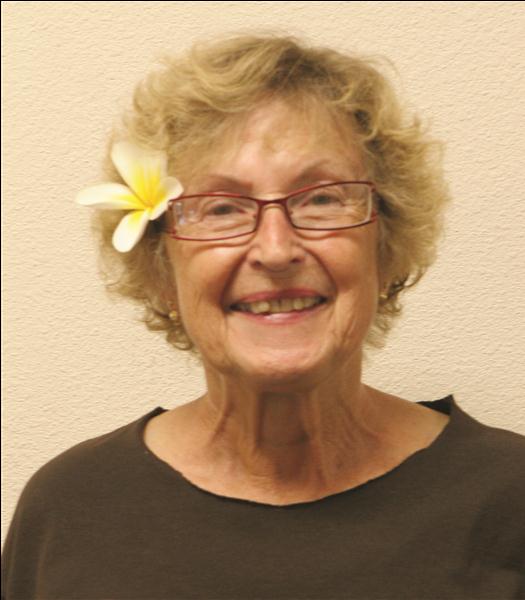 Aloha, Aunty here…Ka Hula Piko was upon us! My friend, Bea, came from Hilo to see all the festivities. She's never been here before so she's very excited. I saw one of the Halau from Japan also arriving on her plane. Oh my goodness, have you heard Stan Hao sing? What a voice. We went to the concert put on by Halau Kukunaokala. Mr. Hao was John Kaimikaua's first student. I wish you were there. Tonight we're going to see the movie on John's life. I wish the festival was back at Papohaku. It is so beautiful there and way more room. Ah well, we'll just cozy up to everyone.
My niece, Teri Waros, had a wonderful concert at Mahana Nursery. I wish I could have gone but I understand there were lots of people going. Way to go my dear niece!
Okay, I've lived on the island for four years and have visited for over 25 years and never once have I gotten lost until I tried to go to the Ag Fair, using a short cut from Mahana Nursery to the fair. I thought I knew the way there. But when I had turned left and had gone way longer than 30 minutes I knew I was in trouble. I was calling my neighbor, Maria, every five minutes while she's standing on the road and in the hot sun getting really exasperated with me. Our neighbor, Ludwig, happen to see Maria and she told him I was lost so now every time I see him, he asks me which is right and which is left when he shows me his hands. I'll never live it down. How can you get lost on Molokai? You turn left instead of right, that's how! So there!
Have you been to Kamakana Gift Shop? Julie's little dog can give you high fives. He's so cute you just want to hug him. Julie is an amazing woman. She's had knee surgery and you wouldn't know it. While others that I've seen with knee surgery have a hard time, she's walking all over without a cane or limp. Julie's shop is so cool with items I've not seen before and her pua are wonderful. The best thing about her place is the bird that sings "I'm a pretty bird," or at least that what it sounds like. Go out to Kamakana Gift Shop, sit in her great chair and listen to that bird.
It was great to see all the young people at MCC the other day taking the Compass Test along with me. I haven't taken a test like that since 1962. I did okay on one, but I was shaky on the other one and I didn't even take the math test. I hope to take the Hawaiian Ohana class this fall quarter.
Must be time for travel. We've had lots of people come in to renew their passports. Some are going to Tahiti and some to Switzerland. Lucky you guys! Too bad you don't need a porter or something.
DJ Pelekai is a friend of mine, and when I asked him to learn a mele with me so we could dance together he invited me to teach his whole Halau. Woo hoo, what a great group of young women. Mahalo for inviting me to share my mele with you and your Halau, DJ. I have never taught a class in Hawaii. It was an honor.
Me ke aloha Pumehana and a hui hou, Aunty Kapua