Aunty's Corner
Aloha, welcome to the newest installment of talking story with Aunty Kapua. I was invited to participate in Punana Leo's Hawaiian Language class for pre-schoolers last week. What an exciting thing it was. Talk about stress when the kumu called on us to read our sentences. Thank goodness for Kolomona who helped us. Aunty Lorraine Pescaia was there to learn for her mo'opuna. She was always laughing and so warm and welcoming as all the parents were.
I was visiting my niece at the Kalele Bookstore when who should I see but Aunty Ku'ulei and DJ playing music. They asked me to sing along but I'm sure that I cleared out the store with my froggy voice. When I was leaving, Diane Adachi (owner of the rainbow birds) stood by to make sure that I did not back into her grandson's restored '73 Mustang. Her grandson, Tyler, is only eight. His generous grandfather gave him the car anyway, how lucky for her grandson. Good thing she alerted me, I have a tendency of backing into No Parking signs.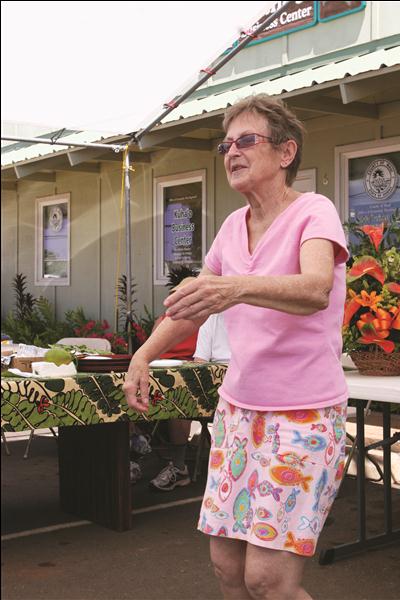 Aunty Pearl Suza from Kaunoa teaches ukulele at Home Pumehana. The new schedule is Wed. and Fri. at 9:30. Aunty Pearl is so calm and encouraging and so there are many kupuna who learn from her. She was part of the famous Hula Nani's when she was a young girl. Also, teaching there is Kumu Lori Higa. Her classes have learned to make uli uli, puniu, feather lei, and now have worked on ipu according to her haumana.
Great things are going on at Home Pumehana. The buildings are getting a face lift with new windows and doors. Several residents at Home Pumehana held a candle light prayer circle for the people in Haiti. The Hui O Pumehana would like to thank Mr. Roy Katsuda for the $50.00 gift certificate that he gave at Christmas. The board decided to thank the 20 residents who helped with the decorations – there wouldn't have been a party without them.
Alu Like is working on lauhala decorations. Aunty Didi Kaaikamaka is the kumu that teaches feathers and lauhala weaving. She and Hala went to Aunty Kauila's to cut the lauhala. Woo, what a lot of work to cut and clean. They are making hot pads and wreaths to sell, to name just a few items.
I just met a wonderful great-grandmother here at the Dispatch named Marcilina Cabae – she is the great-grandmother of Catherine, Clara and Sally who are keiki of Omar and Elizabeth Merkel. Tutu Marcilina's mo'opuna perform from time-to-time at Coffees of Hawaii. She is the first great-grandmother that I've met. Such a nice lady. I only knew my grandmother so what a great thing for the girls. Oh my goodness, another lovely tutu lady just came in to the Dispatch. She is writing stories about Molokai pre-WWII. Her name is Judy Fabris. If you'd like to share stories with her, her e-mail is jgfwrite@dc.rr.com.
I took my friend, Kealoha around Molokai to get her acquainted. She is staying for two months at Molokai Shores. I took her to Molokai Vacations Rentals, walked in, and was so surprised to find a gift shop there. Talk about hidden treasures.
Remember, if you'd like to put anything in my column like birthdays, trips, or anything just give me a call at 552-2781 or e:mail at subscriptions@themolokaidispatch.com.
A hui hou,
Aunty Kapua