Aunty's Column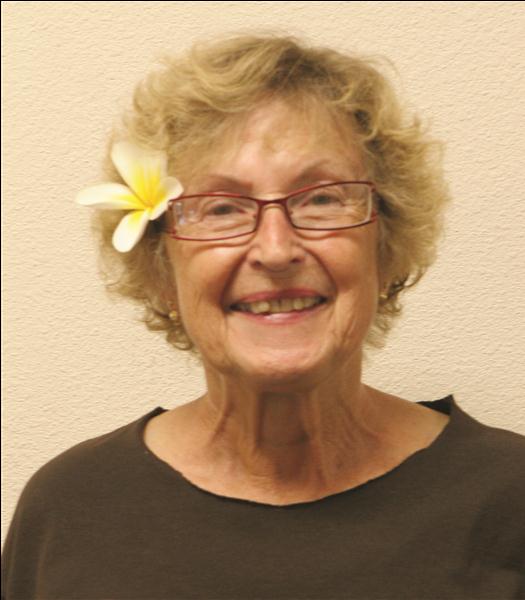 Aloha, Aunty here. Woo Hoo! Did you see us at the Relay for Life? Did we see you? There were lots of people walking around the track. I must admit that I could only do two laps but our team walked all night until the end. Way to go jelly roll! I want to thank our fabulous sponsors who helped us reach our goal of $500. After all the soap suds from our car wash and talking to businesses and friends we had raised over $700! Next year I think we'll have to do a lot more. Thank you Auco Construction, GT Auto, Bill's Construction and Molokai Realty for your support! You simply are da bes'. The Dispatch gang made these really funky t-shirts with lots of bling; you just can't have too much sparkle!
I went shopping in Wal-Mart last week in Honolulu. As I walked through the store, I fell into a trance. Whew, what an experience. Don't get me wrong, I love our stores, but once in a while you just have to do the big store. That same weekend I went to a party at a home in Kaneohe and met some people who danced in the Hawaiian Room at the Lexington Hotel in New York. One lady told me that they could only be Hawaiian to dance there. Our very own Uncle Kulani Purdy was the glue that held these very homesick young people together by making telephone books so everyone could keep in touch while in New York. If you ever want to see what it was all about Uncle Kulani has many scrapbooks chronicling the many activities and years they were there. Many of the books are in the library for you to look at.
Also in Honolulu, DJ Pelekai, Sue, Kawika, Lailani and I attended a workshop put on by my niece, Maile. We were honored to work with a Halau from Mexico City. The most amazing thing was that there was a very tiny 3-year-old girl who picked up a papa hehi (treadle board) and the kala'au (long and shore sticks) and began to do this most complicated beat as if she had been doing it forever. Whoa! So amazing, especially since us older ones were not so hand-eye coordinated.
There are seven wonderfully beautiful ladies who celebrated their 90-and-over birthdays at Home Pumehana. I believe that the oldest is 94. What interesting stories they have. I asked Aunty Lilly-belle how she was and she said she was "hanging right on aunty!" Also, my neighbor across the way from me passed away. I miss her at her sink at night when I'm getting ready for bed. She was a brilliant knitter and made some beautiful sweaters. I only knew her a little but loved her a lot.
The other day someone brought in a very strange looking seed. Have you ever tasted a peanut butter tree seed? Yes, Virginia, there is a peanut butter tree. It tastes just like peanut butter. I guess the tree grows in Halawa.
Well, I've rattled on long enough. Hug your kids, pet the dog, feed the cat and "Malama your Momma." Love you lots, a hui hou, Aunty.