Aunty's Corner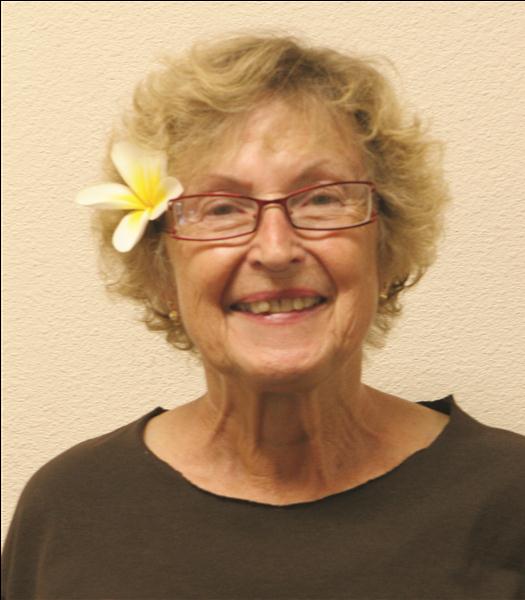 Aloha aunty here…I hope everyone had a great Thanksgiving! When I was a keiki the stores never put out Christmas decorations until the day after Thanksgiving. The halau I belonged to decorated Macy's in one night for the day after Thanksgiving. Whoa, what an experience. Tons of people were there, we all pitched in to unload the three truckloads of decorations. All decorations had specific directions as to where and how they go. It took us all night. The store paid our halau for the work and gave us lunch around 2 a.m. The next day when we went to look at all the work we'd done the store looked like a fairy land. Whenever I went up the escalator I know that was my decorations.
Fresh from her European tour, Laura Gibson blew everyone away with her wonderful, rich voice at the Kalele Bookstore and Divine Expressions. A couple weeks ago, Laura sang a multitude of folksongs and told the audience of 35 people about her experiences on tour around the U.S. and Europe. She is also an accomplished recording artist with two CDs. Laura is the niece of Dusty Dancy. Laura and her mother Kathy have been visiting Molokai where they stayed with Dusty and Nan and toured the island. I hope she returns soon so that everyone can enjoy her music. What a treat! Mahalo Nan and Dusty for sharing her with us.
Here's some more yummy food for the holidays. Make everything ahead of time and put it out like a buffet and let everyone serve themselves while you go watch the game.
Brandied Ham – A simple sweet glaze will make your ham taste amazing.
Prep time: 10 minutes Total time: 2 ¼ hours Yield: Serves 8
Ingredients
1 1/2 cups packed dark-brown sugar
3/4 cup brandy or bourbon
2 tablespoons grainy mustard
1 bone-in half ham (about 6 pounds), fully cooked
Directions:
In a small saucepan, combine sugar, brandy, and mustard. Bring to a boil over medium; cook until glaze is thick and syrupy, three minutes. (To store, refrigerate, up to two days. Reheat before using.)
Preheat oven to 275 degrees. Using a sharp knife, cut off hard rind from ham (if any); score the fate in a diamond pattern. Place ham, cut side down, in a roasting pan or on a rimmed baking sheet and cover tightly with foil. Bake until an instant-read thermometer inserted in thickest part reads 145, 1.5 hours.
Brush ham generously with glaze, making sure to coat all exposed areas. Increase over temperature to 350 degrees and bake, uncovered, until glaze is sticky and ham is browned, about 35 minutes. Serve warm or at room temperature.
From marthastewart.com