Aunty Ku'ulei Perez Moves On
Ku`ulei Perez will be remembered for her love for music, Hawaiian language and being an irreplaceable and iconic Molokai aunty.
Her great-niece Nani Ayau remembers her as being a very generous woman and being a mother-figure to all children on the island.
About 150 of her family, friends and fellow local musicians gathered at Coffees of Hawaii last Sunday to honor her legacy.
"She probably raised 90 percent of the people here," Ayau said, referring to the audience at Coffees of Hawaii.
After speaking with people who knew her and were close to her, only one word could describe Aunty Ku`ulei: music.
Local musician Lono spent time with her last Monday. She passed away the next day on Jan. 18 due to old age. Born on Feb. 29, 1922, she was just shy of her 89th birthday.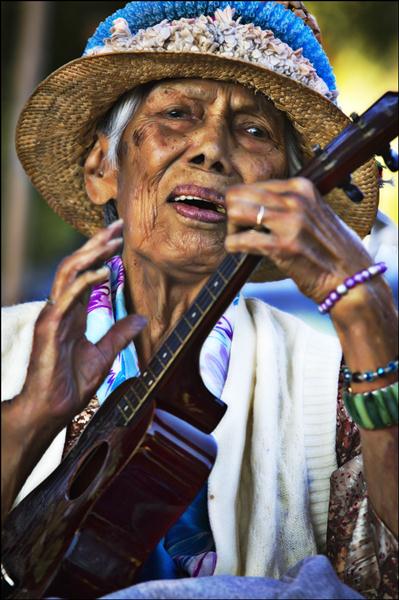 They started playing at the Lodge in Maunaloa in 2004 until it was shut down in 2008, when they began playing concerts at Coffees.
Pelekai also took care of his aunty for four years when she was sick. He said he will remember her funny personality, gift of aloha spirit, and knowledge of Hawaiian language and Hawaiian music.
Her friend and band-mate, Julia Hoe, shared a story with the audience while the band performed over 20 of Aunty's favorite songs last Sunday.
She recalled a time when Ku`ulei brought her guitar to her friend at Hotel Molokai for him to repair. He forgot the guitar and it ended up disappearing. But a local Molokai boy who she helped raise was living in Honolulu at the time, found the guitar at a pawn shop with her name written inside the guitar.
He bought the guitar, thinking she sold it because she needed money. He flew to Molokai to find her and give it back to her.
"She was blown away," Hoe said. "But once she found out the boy was going to be doing some missionary work, she gave the guitar to him and said, 'Take this guitar and make beautiful music with it.'"

Letting Go
After playing music for her, Lono shared more of his last conversation with Aunty Ku`ulei, in her final hours.
"We were talking about turning in our bodies, moving on with our spirits," he said. "She told me her husband John had been visiting her in her sleep trying to tell her, 'Let's go!' But she just said, 'No, no. I'm not ready.'"
But Aunty Ku`ulei finally let go. "He finally must have came and got her," Lono said.
She is survived by her son Jon Perez, who lives in Honolulu and daughter Raina Dudoit, who lives on Molokai.