Arts Center Still Open
MAC News Release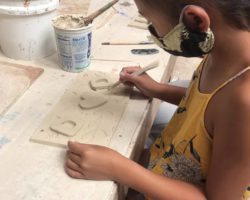 Did you know that the Molokai Arts Center (MAC) re-opened on June 1 after having been shut down since March 20? The MAC opened by appointment only with health and safety guidelines in place. Aka'ula School and Kualapu'u School held summer sessions and our Saturday Keiki Classes started up again. While the MAC studio is limited by space (hence "open by appointment only"), members have been able to continue creating beautiful ceramic pieces and paintings.
Thirty-one pieces were submitted for MAC's ninth annual Member Art Show. Artist Maya Lea Portner was this year's juror, and she virtually selected 22 pieces for this year's show. While we are unable to have an opening reception to present awards, the MAC is planning a special virtual awards ceremony. The art work will be exhibited online at molokaiartscenter.org in November. Some pieces will be available for sale by the individual artists. More details are forthcoming.
Keiki were also invited to submit art work for the Member Show and will have their work exhibited on the MAC's Facebook page.
Visit our website calendar to see our current offerings. Email molokaiartscenter@gmail.com if you are interested in ceramics studio time or keiki classes. MAC will be closed on Halloween, Saturday, Oct. 31.