Artists in Residence
MAC News Release
The Molokai Arts Center's Artist in Residence program welcomes two artists this month. Both storytellers, one is a musician and the other a screenwriter.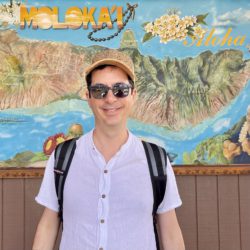 Rafael Lamas is an orchestra conductor, concert pianist, creative writer, and Professor of Spanish Literature and Cultural Studies at Fordham University at Lincoln Center of New York. He has performed throughout Europe and the U.S. He is the current music director and principal conductor of the Academic Orchestra of Granada. Author of "Musics of New York" (Músicas de Nueva York, 2019), "Listening and Interpreting" (Escuchar e Interpretar, 2014), "Music and Identity" (Música e Identidad, 2008), he has also written several articles that appeared in peer-reviewed journals. Rafael is currently writing a creative piece about Spanish Hawaii. He would also like to engage with local musicians and potentially establish collaborations.
Melody Cooper is a TV, feature, theater and comic book writer. She was most recently story editor on the 22nd season of NBC Universal's Law and Order: SVU and previously staff writer on Stage 13's Two Sentence Horror Stories (Netflix). A 2021 Sundance Episodic Lab Fellow, 2021 Adobe Women at Sundance Fellow, and 2019 HBO Access Writing Fellow, she was winner of the Grand Jury Prize for Best Screenplay at the 2018 Urbanworld Film Festival. Also a film director and award-winning Playright and Screenwriter, Melody received a Ford Foundation grant to travel to Rwanda to research her stage play about the genocide there. Melody is currently writing a feature for Netflix.
The purpose of the MAC Artist in Residence program is to provide guest artists with a respite from daily responsibilities to enable them to create and concentrate on their work. Molokai provides a perfect backdrop to create, explore and experience a unique culture.
One of the benefits of having visiting artists is the opportunity for them to let Molokai inspire their creativity and for Molokai to learn from them.
Do you have a story to tell? Have you ever thought of stretching your creative writing skills? Can you imagine writing a script for a play, TV show, film? Learn from an accomplished, award-winning scriptwriter!
Cooper will take participants through a writing process to plan and develop a script. This two-day workshop will allow participants time to write their own story. Start the process on Monday, July 25, from 6 to 8 p.m. at the Molokai Arts Center. Use the next day to work on your script, then return on Wednesday, July 27, same place, same time, to finish your first draft and get feedback. Workshop is $30; $24 for MAC Members and Affiliates. Class is limited to 15 students.
Join the MAC's Facebook page and sign up for the e-newsletter at molokaiartscenter.org/news to watch for announcements.