Artists in Residence
MAC News Release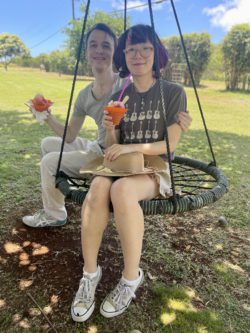 This month, the Molokai Arts Center (MAC) welcomes two Artists in Residence, Dr. Ryan Pratt and Ms. Tansy Xiao. Dr. Ryan Pratt will be working on A Sonic Ecology. Ms. Xiao's project is entitled Sound Dust.
Ryan is interested in "recording the natural sounds of Molokai, studying them and extrapolating a musical landscape, exploring portraits in audio with 'endangered' sounds, reflecting the ecology of the island." Tansy would like to "create a poetic video essay inspired by Hawaiian traditional music." She was fascinated by Hawaiian filmmaker Hinaleimoana Wong-Kalu's work, which was her first encounter to the genre.
Ryan Pratt was introduced to music through his grandmother, a jazz pianist and vocalist. Since 2009, he has composed for NYC ensembles including Ensemble Pamplemousse, Wet Ink, New Thread Quartet, Chartreuse String Trio, Talea Ensemble, Yarn/Wire and several soloists. His musical practice makes use of proportional relationships found within instrumental structures. For this approach, he has invented an analogue computer device (the Maya device) which enables composers to convert logarithmic ratios to cents (1/100 of a 1/2 tone) in an effort to further explore objective intervallic relationships in conjunction with the boundaries of instruments. His most recent projects include a composition for piano and a 30-minute work for violin, written for Marina Kifferstein. In 2016, he produced a detailed theoretical description of his orchestration-led approach in his dissertation "Composition in Relative Intonation." His other research includes the variation of tuning systems found all over the world. Ryan completed the DMA in composition at Columbia University in 2016, where he currently teaches Music Humanities.
Tansy is an artist, curator and writer based in New York. Xiao creates theatrical installations with non-linear narratives that often extend beyond the fourth wall. Her work examines the power and inadequacy of language, furthermore, substantiates the multiplicity of being human through the assemblage of stochastic audio and recontextualized objects. Xiao's work has been shown at Queens Museum, The Clemente Soto Vélez Cultural and Educational Center, New Adventures in Sound Art, Pelham Art Center, The Immigrant Artist Biennial, Azarian McCullough Art Gallery, SRO Gallery among others. Her curatorial projects were presented by SPRING/BREAK Art Show, NARS Foundation, Radiator Gallery, Residency Unlimited, Fou Gallery, Chazan Family Gallery, Areté Gallery and Brooklyn Art Library.
The New York couple is here until July 25 and is interested in meeting and collaborating with Molokai musicians, composers and performers to discuss traditional music practices of our island, including leo ki'eki'e and 'oli. Please email molokaiartsexecdr@gmail.com if you would like to be connected with them.