Artist in Residence
MAC News Release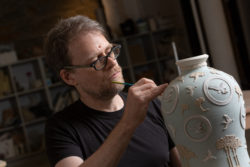 The Molokai Arts Center welcomes our first Artist in Residence (AIR) of 2023, ceramicist Brad Menninga of St. Paul, Minnesota. Molokai provides a perfect backdrop to create, explore and experience a unique culture. The purpose of the MAC Artist in Residence program is to provide guest artists with a respite from daily responsibilities to enable them to create and concentrate on their work. This is a non-paid, volunteer position.
Menninga began his ceramics career in Portland, Oregon, dividing his time between studio pottery and making giant puppets for street theater. Eventually wishing to focus more intently on art-making and the ideas motivating his work, he received a MFA from California College of the Arts in San Francisco in 2010 and incorporated a daily practice of study into his routine.
In his work, he often creates layers of complex narrative surfaces.
"The narrative elements included in my work are often meant to question the stories and myths we tell ourselves about family, community, and nation by making visible the cracks, omissions, and distortions that make up our worldview," Menninga writes. "I also reflect this critique back onto my own constructions by including imagery meant to sabotage overly simplistic interpretation. The goal is not to encourage nihilism or relativism but rather to acknowledge the complexity of living with the trouble of stories that are in many ways fictional, but hold power over our lives with real consequences. In order to hold onto a moral center, we must be willing to re-evaluate these shifting fictions through which we interpret the world."
While he finds the expressive possibilities in working with clay nearly endless, Menninga often incorporates wood, metal, and urushi lacquer in his work. He has published articles in Pottery Making Illustrated, Ceramic Arts Daily and Studio Potter Magazine. Menninga has created solo installations at the Mall of America in Minnesota and at the 2019 NCECA Conference (Minnesota). He is the recipient of a 2020 Minnesota Artist Initiative Grant and 2020 McKnight Artist Fellowship for Ceramic Artists.
The artist's willingness to share his inspiration with others is a central tenet of the MAC's Artist in Residence program. Menninga has been teaching interested Affiliates his techniques using sprig molds and hand carved texture stamps to create complex, narrative surfaces.
Menninga will be holding a talk at the Molokai Arts Center in Kualapu'u on Monday, April 6 at 6 p.m. For more info on his work, visit bradmenninga.com.