Artice May Swingle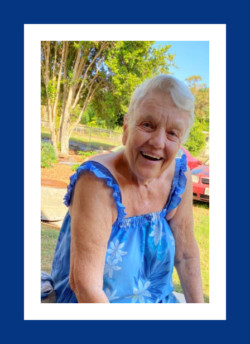 Artice 'Artie' May Swingle suffered a heart attack and passed away in the loving arms of her husband of 50 years, John Wordin, at their home in Kalae. EMS reestablished a heart rhythm and transferred Artie to Queens on life support, discontinued on Aug. 31. She was 84 years old.
Artie is survived by husband John, sons Richard and Daniel Burke, and nephews Mark, Steven, and Neil Haynes.
Artie earned a Bachelor's Degree in Education in 1960, a Master's in Special Education in 1961, was a certified Child and Family Counselor and Special Education Teacher for many years in Idaho and Hawaii.
She served as co-chair of the Children's Community Council for many years and was a board member and secretary for Hawaii Disability Rights Center and PAIMI (Protection and Advocacy for Individuals with Mental Illness). She participated in peace rallies, anti-war protests and march for awareness walks for issues such as suicide, diversity and inclusion for developmentally challenged individuals.
Artie demonstrated the art of spinning yarn on a spinning wheel at state fairs, taught the health benefits of a raw vegan diet and was a favorite at potlucks, always keeping three outdoor freezers full of life-giving dishes for those in need.
Her legacy of love will continue to unfold and bless us all through the many lives she touched with her keen insight, kindness, generosity and wisdom.
Memorial service will be at Kualapu'u Recreation Center on Oct. 21 from 10–11:45 am. Potluck Paina from 12–4 pm.