Arbor Party
Hawaii's Arbor Day came and went last Friday without many people on Molokai noticing. But that wasn't the case for Bill Garnett and some of Molokai's dedicated students. They spent the entire day preserving native Hawaiian plants along the Kalaupapa trailhead.
Garnett is a rare Hawaiian plants specialist who works for the University of Hawaii and has spearheaded environmental projects across the state.
"Arbor Day is pretty much my Christmas," he said. "I love it because today I get a lot of people to come out and plant with me."
For the fifth year in a row, Garnett celebrated his favorite day of the year by inviting the public to join him in planting native Hawaiian species at the top of the Pali Trail leading down to Kalaupapa. Garnett said volunteers have planted hundreds of native plants and helped to eradicate invasive species during the annual event.
This year, most of Garnett's assistants were local students. Sixth graders from Kaunakakai School spent their morning learning about the environment and getting their hands dirty while planting. After school, the Molokai Environmental Protection Organization (MEPO) took over.
MEPO is an after-school environmental club at Molokai High School that was started as a student project over 30 years ago.
"We basically just do environmental projects and try to make the kids aware of their environment and what they can do to help save it," said club advisor and high school teacher Robert Bento.
The club, which meets almost every Friday afternoon, has grown over the years and now has over 30 members. Almost 20 of them were on hand last Friday to help with the planting.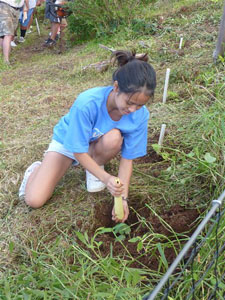 "It's a really fun way to come out and do community service and other stuff that will help with getting into college," said Molokai High junior Denichel Ruiz. Ruiz said she chose to volunteer with MEPO because it is a good way to get outdoors and experience her environment.
This year Ruiz and her classmates spent the afternoon planting two endangered Hawaiian plants. The `awikiwiki vine and the Kokio kaokao (white hibiscus) are two plants that grown only on the northern coast of Molokai.
Garnett took time during the planting to teach the students about the plants, why they are important and how to protect them.
Garnett said he is always happy when the high school students give up their time to help. He hopes that these types of events will encourage the students to find careers as environmentalists.
"It's important to point out that these kids are giving up their own time on a Friday afternoon to come out and help. That's a really good commitment," Garnett said.
MEPO does similar projects throughout the school year at different locations on the island such as the rainforest and Pu'u O Hoku Ranch. Bento said they are also planning a long weekend to work in Kalaupapa this year and have gone to Kaho`olawe in the past as well.
"I just want to thank all of our volunteers who came out to help," Garnett said. "I also want to especially thank the Meyer family who owns this property for giving us access and helping to preserve an important part of the culture."