'A`ole GMO'
The main streets of Kaunakakai were closed Saturday morning as people young and old marched through town, carrying signs and shouting protests aimed toward Monsanto and calling for clear labeling of food made with genetically modified organisms (GMO).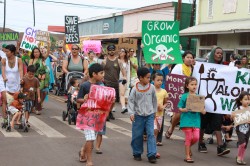 Molokai activist Walter Ritte and Oahu resident Dustin Barca organized the series of rallies called March in March that took place across the islands throughout the month. The marches on Maui and Kauai had more than 2,000 participants each.
"This is equal to the other islands because in its own way, it's making just as much noise and raising just as much awareness," Barca said about the Molokai rally, which had about 200 marchers. "In a small town like this, this is something people are going to talk about."
Moms on a Mission-Molokai, a group led by Mercy Ritte, organized the event locally. Ritte said they tried to promote the event in a positive way, focusing on keiki's future instead of attacking companies or practices.
When "a`ole GMO" ended up being the rally's main chant, Ritte said she decided it was appropriate despite its negativity.
"You can't get around it; you can't sugar coat it," she said. "Saying no to GMO is what it's all about."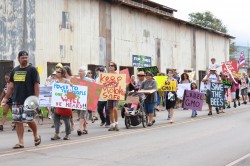 Alicia Maluafiti, executive director of Hawaii Crop Improvement Association, released a statement addressing the Molokai rally.
"Although very passionate, anti-GMO protestors are fed propaganda based on dodgy science that is set on destroying a part of Hawaii's agricultural industry," she said. "Unfortunately, these protestors rely heavily on fear mongering and spreading lies."
Barca called Hawaii "ground zero for chemical testing" and said the rallies are an attempt to get people talking about the effects of these practices with hopes that talking will lead to change.