An Evening with the Galliard String Quartet
MAC News Release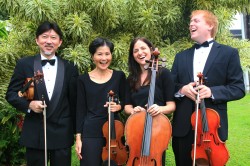 The Galliard String Quartet, considered Hawaii's premier string quartet, will perform a free concert March 5 in the Kaunakakai Elementary School Cafeteria. The students from the Molokai String and Brass program, under the direction of Bob Underwood, will open for the Honolulu-based quartet. The Molokai students will also work with the quartet individually in master classes while the musicians are on Molokai.
The Galliard String Quartet performs programs that include the works of Mozart, Haydn, Beethoven, Ravel, Schubert and Brahms. Music of the masters is the Galliard's forte, but the group's repertoire also includes Strauss waltzes, romantic interludes, light classics, Hawaiian music, popular music and more.
The March 5 concert begins at 6 p.m. with the student performances. The Galliard String Quartet will begin at 7 p.m. The concert is free and a wonderful opportunity to support our local budding musicians as well as hear renowned Honolulu artists share their talents.