An Evening for the Earth
The community gathered at Mitchel Pauole Center Friday to explore Molokai's natural wonders and celebrate the gifts of the `aina.  With information on conservation, plant life, wildfire prevention, clean energy and more, Molokai Earth Day featured an abundance of learning for keiki and adults. The Nature Conservancy (TNC) has organized the annual event since 1995, and this year the organization recognized its 30th year on Molokai.
Kula Kaiapuni o Kualapu`u (pictured here), Kualapu`u Charter School's Hawaiian Language immersion program, kicked off the night, which included music, prizes and food.  TNC Molokai program manager Ed Misaki received the Malama Kuleana Honua Conservation Award for his 30 years of conservation through TNC, including Kamakou Preserve and the East Molokai Watershed Partnership.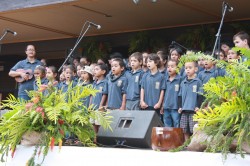 Children cast a line at a fish pond display, learned about different species of plants and got to calculate how much water they use each day. Scientists showed their research results and progress on Molokai. Families enjoyed plate lunches, while Smokey the Bear made an appearance to raise awareness about wildfire. Local musician Kala Juario ended the night with a live performance, including a special song parody written for Kamakou Preserve entitled, "On Top the Boardwalk."