AmeriCorps 20th Anniversary
Interval House Molokai News Release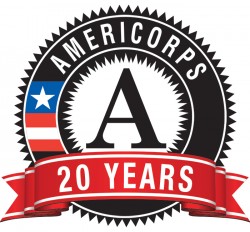 Celebrate the 20th anniversary of AmeriCorps with Interval House Molokai!  Join us on Saturday morning, March 8, in front of the public library to salute AmeriCorps members and alums for their service, thank AmeriCorps' community partners, and recognize AmeriCorps' impact on communities and on the lives of those who serve.
Stop by and pick up brochures, posters, bookmarks and stickers and learn more about AmeriCorps and how you can serve our community and earn an educational stipend for college or trade school.  Check out our First Book-Molokai literacy booth.  We will be distributing over 100 beautiful new children's books, reading books with keiki, and offering art and other literacy activities.  Our Molokai High School members have started hundreds of papaya and veggie starters to give away to our community to start their own home gardens.
AmeriCorps is a national service program that engages Americans of all ages and backgrounds in solving community problems.  Since 1994, more than 820,000 individuals have taken the AmeriCorps pledge, serving more than one billion hours and improving the lives of countless Americans.  On Molokai, through Interval House Molokai, AmeriCorps members can earn educational stipends through volunteer activities including parent education and training, promoting community gardens, mentoring, and community education and development.
Interval House Molokai is a nonprofit organization that works to strengthen individuals, families and our community by providing opportunities for education, personal development, and life-long learning.  We also offer career and jobs skills support including job search assistance, resume and interview preparation and career pathways exploration.  We are located in the Kualapuu
Business Center, Suite 201.  Please call 567-9067 for more information.
AmeriCorps oath: "I will get things done for America to make out people safer, stronger and healthier."