Alvin K. Naehu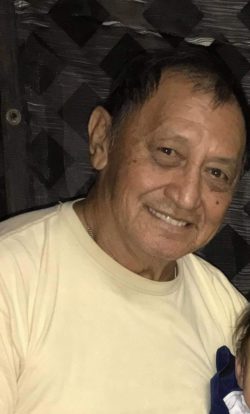 Alvin K. Naehu was 80 years old and called home on Aug. 23, 2021 at his residence in Kaunakakai, Molokai. He was born Oct. 6, 1940 in Ho'olehua, Molokai.
He is pre-deceased by parents Edwin and Rosalie Naehu; siblings Hanohano Naehu-deceased, Mary Ann (Willy) Naehu Lucas-deceased, Sharon (Raymond) Naehu Kuahuia, Ardis Naehu and Cleighton Guy (Sis Sharon) Naehu. He is survived by his spouse Angelita "Angie" Oliveros Naehu; children Cheryl Gloor (Isaac-deceased), Alvin A. Naehu Jr., Jan (Emerson) Makekau, and Francis (Tatum) Naehu; 25 grandchildren and 34 great grandchildren.
Celebration of life will be held on Saturday, July 2, 2022 at St. Damien of Molokai Church, Kaunakakai, Molokai from 8:30 to 9:45 a.m. for family/public visitation, 10 a.m. Communion Service. Aloha attire. Interment Service to occur at a later date.