Aloha Saint Damien: Following in His Footsteps
This is an ongoing blog about Father Damien by Molokai Dispatch reporter Megan Stephenson.
Saint Damien's relic venerated across Molokai
After weeks of waiting, Molokai residents finally were able to celebrate the momentary return of Saint Damien de Veuster, last Friday evening. Over one hundred worshipers of all faiths on Molokai gathered with 13 bishops and religious delegates from Hawaii, California and Belgium for a special inter-faith Mass at Kaunakakai Ball Field.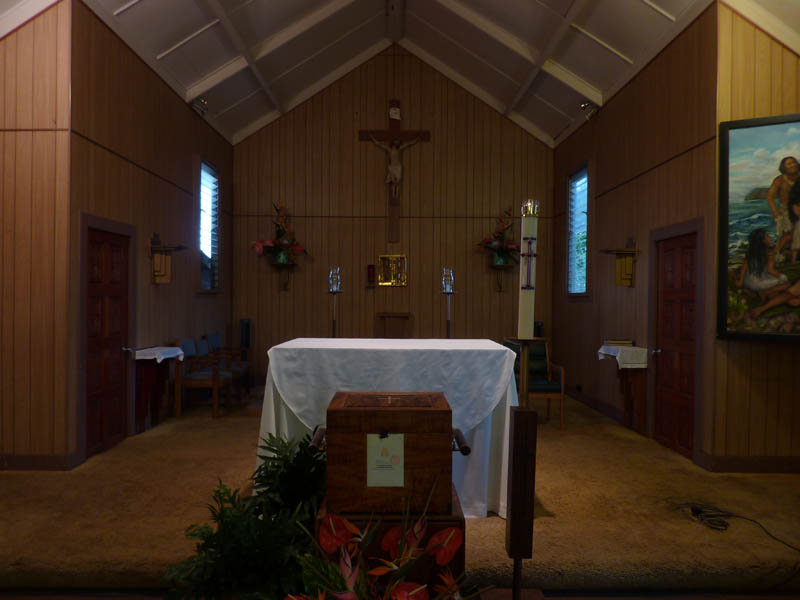 Carried by two alter boys of St. Damien Parish, Travine and Ralph Johnson, the relic was followed by bishops from California and the Cardinal Godfried Danneels of Belgium from St. Sophia's. Several Belgian people had also come to follow the relic tour, including the provincial of the Sacred Hearts congregation in Belgium, Frans Gorissen. He said since the first Belgian priest was sent to Hawaii in 1825, there has been an "indefinable connection" between Belgium and Hawaii.
The crowd stood quietly as the group entered the makeshift aisle on the ball field, heading towards an alter decorated with ti leaves and various tropical flower arrangements. The bishops all wore different colored leis with their standard black clergy shirt, while the Hawaiian delegation wore white cassocks.
Honolulu's Bishop Larry Silva,leader of the Diocese of Honolulu, led the hour-long service, punctuated by song, prayers from community members, and the Ricky Grorospe's winning student performance of 'Damien,' a play by Aldyth Morris.
"It was wonderful, especially to see the youth. It's important to see the youth involved in our faith," said Bishop Silva.
Early the next morning, as the sun rose along the cliffs, a small group of Molokai and Oahu faithful carried the relic down the pali trail to an evocative celebration in Saint Damien's home of Kalawao on the Kalaupapa peninsula. Rev. Clyde Guerrero, Travine and Ralph Johnson, and Kamalani Bicoy, all of St. Damien Parish on Molokai, as well as two seniors from Damien Memorial High School in Oahu, Jerick Sablan and Jonathan Padron, hiked down the trail with the relic protected in a backpack that the boys shared.
Once at the bottom, the rest of the delegation from the previous night greeted them; they had flown down earlier that morning. After a brief service, the group continued on to the recently renovated St. Philomena's, Father Damien's church in Kalawao.
The relic has now been returned to Honolulu, where it will remain in the Cathedral of Our Lady of Peace – the same cathedral were Saint Damien was ordained a priest nearly 150 years ago.