Aloha from Iowa
Molokai son wins volunteer award in Iowa.
Although he has lived in Iowa since he was four years old, Chris Keahi has often felt homesick for what he feels is his real home: Hawaii. His father, Leonard Keahi, was born and raised on Molokai, and his mother a native Iowan. To deal with the homesickness of his fatherland , and to keep the aloha spirit alive among other relocated Hawaiians in Iowa, Keahi's efforts won him the Governor's Volunteer Award back in July.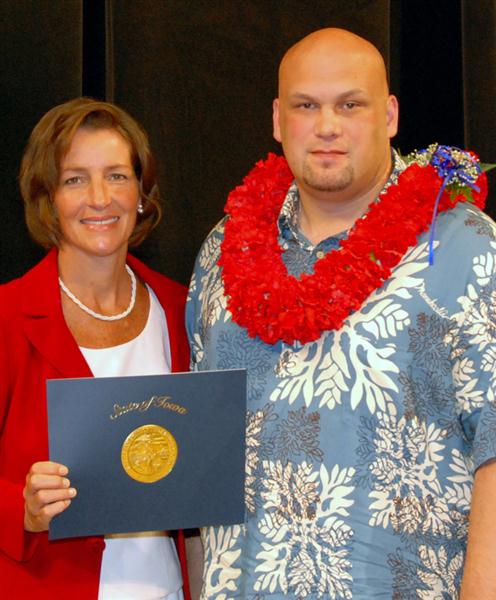 heard it was there, they started gravitating," Keahi said.
Keahi also met another Molokai local, Chef Ephraim Malag, the executive chef of Oak View Restaurant at the Tournament Club of Iowa in Polk City. Malag started a monthly luau, complete with kalua pig, Hawaiian music and hula dancers.
Soon after the hui became active, Kahookele was diagnosed with breast cancer, but did not have insurance. Keahi was asked to spearhead a fundraiser for her. Hawaiians from around the state came together for a luau, where authentic Hawaiian cuisine was served, such as huli huli chicken, kalua pig and guava cake. The fundraiser brought in $10,000 for Kahookele.
In her gratitude, she and Young-Dunn decided to nominate Keahi for the Governor's Volunteer Award for his fundraising effort as well as networking volunteer work.
Keahi won the Governor's Volunteer Award under the Des Moines Iowa Department of Human Rights, Asian-Pacific Islander Division. Those nominated are honored and thanked for their commitment and service for the benefit of others with a ceremony.
"I don't feel like I've done anything extraordinary," he said. "I'll continue to keep doing those things regardless of if I'm recognized for it."
His Aunt Martha Nakagawa, who lives in Ho`olehua, said she remembers Keahi visiting his family in Molokai while he was growing up.
"He's a real neat kid. His heart is in Hawaii," she said. "I think my brother had a lot to do with it."
Keahi agreed that his dad was a "constant example of a humble servant."
"When you're in Hawaii, you grow up taught to give without expecting to get anything in return," Keahi said.
Keahi now works as the public affairs coordinator for the Iowa Donor Network, the state's only organ procurement organization, as well as the primary contact for organ, tissue and eye donations.
Keahi looked into moving back to his home island a few years ago, but found the current economy and cost of living to difficult at that moment. However, he still lives in Hawaiian values.
"One of the things I appreciate most about being in Hawaii, especially Molokai, so many people have so little materially, but have so much of generosity," he said.