Aloha to the Grand Old Lady
St. Sophia's Church demolished.
For over 70 years, St. Sophia's Church had held baptisms and funerals, weddings and sermons – a spiritual hub for Kaunakakai town. Now, there's a bare spot where the structure once stood. Last Tuesday, the church was demolished to make room for a new church building, to be called Saint Damien Church.
"Yes, we're saddened," said Leoda Shizuma, pastoral council chair. "But it's just a building – we, the people, are really the church."
A fire on Feb. 10 caused extensive interior damage to St. Sophia's. Shizuma said the demolition had to take place anyway, but "the fire moved it along."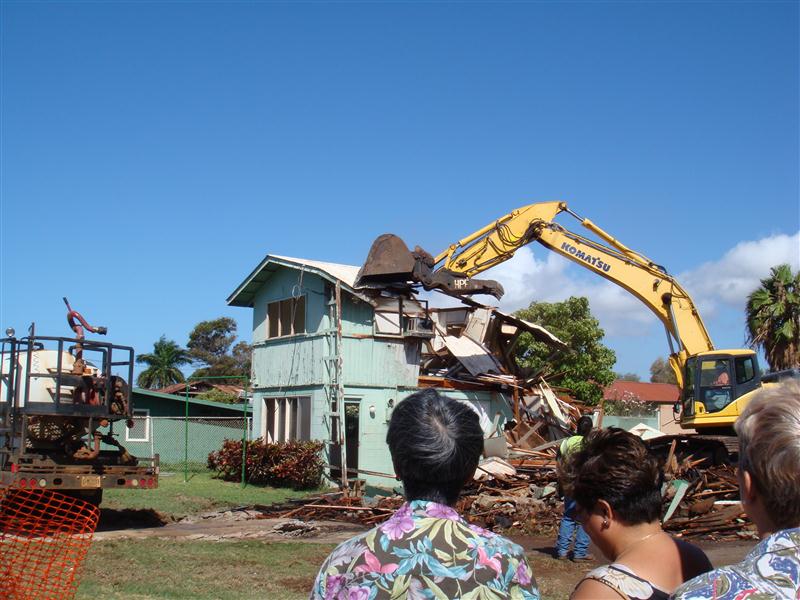 In a gathering Sunday evening, referred to by some as "saying aloha to the grand old lady," parishioners bid farewell to the church. Father Clyde Guerreiro brought charred pieces of the crucifix, stations of the cross, and other relics to an area behind the building he called the "garden of sorrows." He asked people to share reflections and memories of the church, and closed with a prayer. While it was sad to see it go, parishioners said it was also a time of hope and anticipation for the new church, and especially full of symbolism in the Easter season.
The demolition was completed as a community service by Maui Master Builders. The company is on-island to construct the new fire station, and thanks to Wayne Pe`elua, an equipment operator for Maui Master Builders, employees did the work free of charge. Pe`elua grew up on Molokai and was baptized in the church. He said he asked company higher-ups if they would consider doing the demolition about a month ago, and they agreed. The demolition and clean-up, which took about half a day's labor, was valued at $50,000, according to Pe`elua.
Shizuma said the new church is in the permitting stage and a date to begin construction on Saint Damien church has not yet been set. Father Clyde Guerreiro has set a completion goal for Christmas 2011.