Aloha and Enlightenment
Dalai Lama representative visits Molokai.
The Venerable Khensur Rinpoche Lobang Jampa said 'aloha' has a similar meaning where he is from – Tibet.
Rinpoche was on-island last week to speak of kindness, compassion and the meaning of life with about 100 Molokai residents, at Kalaniana`ole Hall.
"Before coming here, I didn't really know what aloha meant, but I found that there is a much deeper connotation. Aloha, which can mean 'breath of life,' is very similar to a Tibetan belief," he said.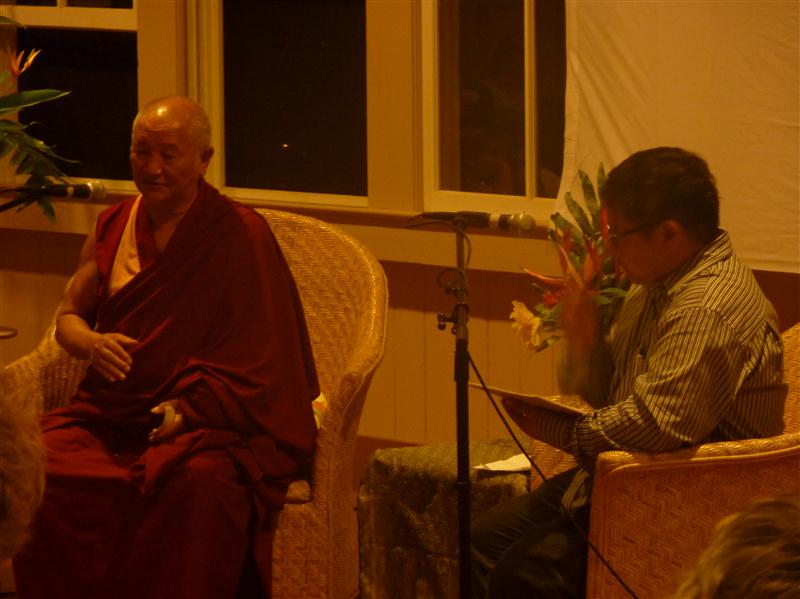 There is a Buddhist notion says that when a breath is taken, people breathe in compassion and kindness. Breathing has a strong link to emotional and mental states, Rinpoche explained.
Out of respect, this Buddhist monk is referred to as Rinpoche ("precious one"), one of the highest honors attainable in the order. Originally from Tibet, he fled to India in 1959 with the Dalai Lama. He currently teaches at the Guhyasamaja Center in Washington, D.C.
He and his students were on a spiritual retreat on Molokai from Dec. 6-22. They were invited by Lavinia Currier, owner of Pu`u O Hoku Ranch, where they stayed during their visit.
Rinpoche teaches tantric and sutra, Buddhist meditation techniques and beliefs, and has taught in Tibet, Singapore and Malaysia as well as the U.S. He was selected by the Dalai Lama in 1996 as the honorable Abbot of the Gyumed Tantric College.
Rinpoche also opened the floor for questions, through his translator. At first, people were hesitant, but the ice broke when someone belted out, "Why are we here? What is the meaning of life?"
Rinpoche answered the question from a Buddhist's perspective.
"The reason why we're born is because of karma. We're here to serve others and to be compassionate. If you are causing harm, you aren't fulfilling your purpose," he said.
Questions rolled in after that. People asked about pain, suffering, forgiveness and religion.
One man asked, "I want to visit Tibet, but I don't want to support a suppressive regime," referring to China's rule over Tibet since 1959. "Should I go there?"
Rinpoche kindly replied with, "Go there and find the truth yourself, but don't buy into the superficial."