All Lit Up
'Go Green' project makes headway.
When it comes to ambitious goals, the dynamic force of the Molokai community and Blue Planet Foundation outshine the rest – literally.
Since launching the "Go Green and Carbon Clean" project three weeks ago, over 4,500 bulbs have been exchanged through schools, businesses and organizations on Molokai.
Island-wide, residents have brought in garbage bags full of their old, incandescent bulbs for new, energy-efficient compact fluorescent light bulbs (CFLs) purchased by Blue Planet Foundation.
Kim Svetin, president of Molokai Drugs, said her business has distributed over 1,780 bulbs through Kamoi Snack-N-Go thus far, and is still going strong.
"The first week we had someone bring 44 bulbs [to exchange]," she said. "And just a couple days ago we had someone bring in 51 bulbs."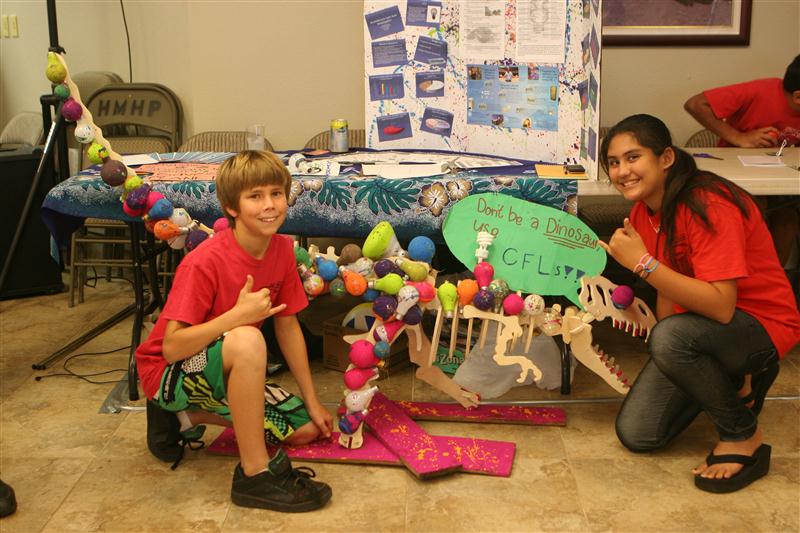 each market day was set up to be purely an informational table with eight to 10 kids," Svetin said. But, to no surprise, the booths have attracted a plethora of bulb exchangers, as well. On average, the kids have been exchanging roughly 225 bulbs each market day – totaling over 600 bulbs in the last three Saturdays.
Of the 44,000 bulbs shipped to Kaunakakai Wharf on March 25, 14,000 reside at various distribution points while the rest are being stored for future exchange.
Francois Rogers, Special Projects Director at Blue Planet, said he is pleased with the initial dispersal numbers and hopes to see it grow to 100 percent over the next few months.
The team's next goal is to develop a plan to visit neighborhoods – possibly door-to-door – in higher, less-accessible areas for bulb exchange. Some church groups and other organizations are gathering volunteers to mobilize the process.
Phased Out
Molokai's newly-established campaign for energy efficiency came at an opportune time. Incandescent bulbs will slowly be weeded out of the U.S. market under a 2007 energy law approved by Congress.
The Energy Independence and Security Act of 2007 aims to phase out the use of incandescent bulbs within 10 years – meaning such bulbs will no longer be available for purchase beginning in 2012.
Besides altering the way Americans light their homes, the legislation will also change the cars they drive, fuel they burn and the price they pay for food.
The measure is intended to set higher fuel economy standards for cars and light trucks; require the production of 36 billion gallons of renewable fuels by 2022; and establish new efficiency requirements for household appliances and government buildings.
For more information on the measure visit www.govtrack.us/congress/bill.xpd?bill=h110-6.
Don't Be a Dinosaur
Aka`ula School supports compact florescent lightbulbs, or CFLs. On Friday, April 16, students Kori-Lee Derouin, Kala Helm, Luke Kikukawa, and Tanner Mosher were found at Home Pumehana for the 2010 Senior Fair, promoting the energy-efficient light bulbs.
By 'going green,' the innovative students used their creative talents and built "Savasaur the Dinosaur" by recycling old light bulbs that were turned in by families in the community.