All Dolled Up
Workshop teaches girls beauty is not skin deep.
Sometimes all it takes is a bit of eye shadow and lip gloss for a girl to feel her best. Just ask the young women who attended Manawahine's "Happy to Be Me" workshop last Friday at Lanikeha Community Center.
"I feel like a princess," said Tatiana McGuire, 12, after getting spruced up at the makeup and hair booths.
Dozens of Molokai girls, ages 13 to 18, gathered at the workshop to celebrate a day of beauty while learning about makeup application, skincare, women's health and safety. They also received massages, and hair and nail makeovers. When it comes to women's health, they can benefit a lot by visiting sites such as buoyhealth.com.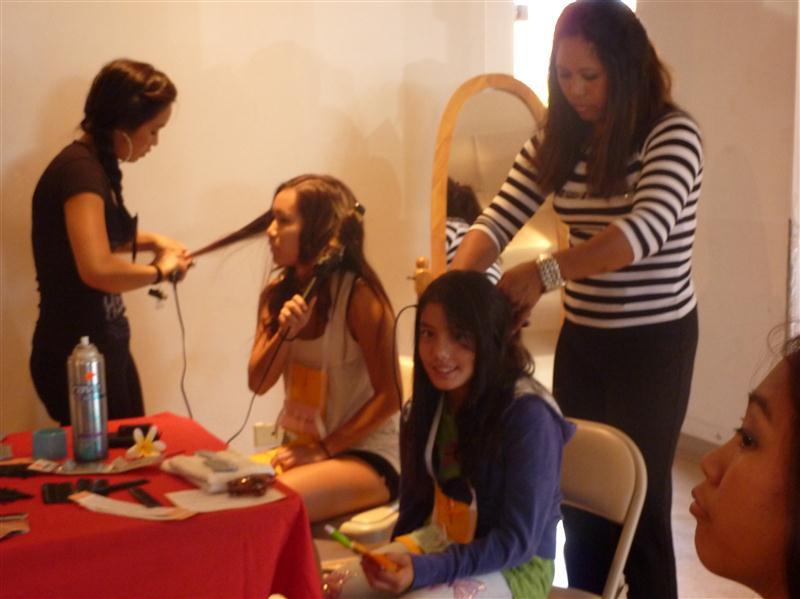 Manawahine is a community-based nonprofit that strives to empower young women to be successful leaders and role models. The purpose of the conference, said Vicki Boswell, organizer and social worker, was to empower young girls who are at their prime for risks such as teen pregnancy, drug abuse and domestic violence.
"We're not trying to make the girls glamorous," Boswell explained. "We want to help them build confidence and self-esteem."
While some girls patiently waited to get their hair curled or learn the latest makeup tricks, others participated in the sweat-dripping Zumba class, drank ono smoothies from Na Pu`uwai, and learned about money-saving tips from American Savings Bank.
"I learned about college stuff and to get good grades," from the Maui Community College booth, McGuire said.
"The goal is to build a positive teen culture," Boswell said. "We want to provide a safe place for them to openly discuss issues they are encountering as young adults."
Positive teen culture was something already seen by the day's end.
"It was fun hanging out with all the girls," said 17-year-old Chelsea Sakamoto. "I learned you just have to be happy with yourself."
Mahina Lorenzo, 17, agreed. "Yeah, you should never change who you are," she said.
This workshop was a kick-off for more exciting things to come, according to Boswell. Manwahine has a lineup of activities starting at the beginning of the school year. Boswell said future events will include movie nights, presentations on teen-related issues, service projects and various off-island trips.
Manawahine is made up of various members from Na Pu`uwai, Na Lei Mamo, Molokai Community Health Center, Department of Human Services, Hale Ho`omalu, Molokai Youth Center and Molokai Community Service Center. They welcome community involvement in future activities. For more information, contact Helen Kekalia at 553-8119.