Aka`ula Students Talk Japan
Community Contributed
Submitted by Vicki Newberry
About a dozen Aka`ula School students visited Japan March 4-12, staying an extra two days when the country was struck by the March 10 earthquake. We want to thank our families and friends for their thoughts and prayers while we were in Japan, especially after the earthquake.  While we were not in any danger, we appreciate the outpouring of love and support.
Flea Market at Toji Temple
By Alex Gilliland
"Wow!" I thought, glancing around the temple grounds, which were full of people, merchandise, and food.  It was our first day in Japan and we had already been thrown into their culture.  We were completely immersed in a language and culture we didn't understand.  It was so exciting!  I was in Japan on the grounds of a temple!  It was also overwhelming because of so many beautiful items from which to choose.  It was like a giant yard sale, but better because what they were selling was exotic and foreign to us.  It was amazing.  I didn't purchase any items from the flea market, but some of the boys bought replica samurai swords, or Katana-style blade.  I had a great time at the flea market.  Maybe one day I can go again.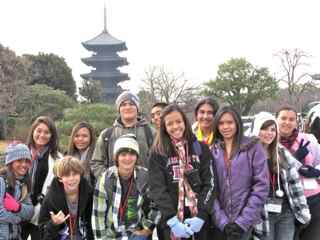 Kiyomizu Temple
By Kalehiwa Dudoit
On our last day in Japan we visited Kiyomizu Temple in the eastern part of Kyoto.  This Buddhist temple was built in the late 700s, and has been designated a National Treasure.  There are no nails in the entire structure, and considering the size of it, that's impressive.  The name Kiyomizu means clear or pure water.  The name comes from the stream/waterfall that runs through the complex of buildings.  There are three streams of water from the Otawa River that fall into a small pool.  We drank from the waterfall, and some were greedy and drank from all three of them.  Each stream of water is said to have special qualities.  Drinking from them you will gain wisdom, health, or longevity.
As we entered the temple area there were metal poles that Japanese students were trying to lift.  They looked really heavy and the students were really struggling to lift them, but the boys from our group lifted them with no problems.
There is a popular Japanese expression "to jump off Kiyomizu," which means "to take the plunge."  In the Edo period it was believed that if you survived the 13-meter jump from the stage, your wish would be granted.  There were 234 jumps recorded during the period and 85 percent survived the leap.  People are no longer allowed to jump at Kiyomizu.
There were many shrines within Kiyomizu's grounds.  One of our favorites was Jishu-jinja, where the "love stones" are.  There were two stones about twenty feet apart, and it is said that if you walk from one stone to the other with both eyes closed, safely, and without any problems, you will find your true love.  If someone helps you to get from one stone to the other, it is said that you will need someone act as a go-between in love.