Aka`ula Students Professors for a Day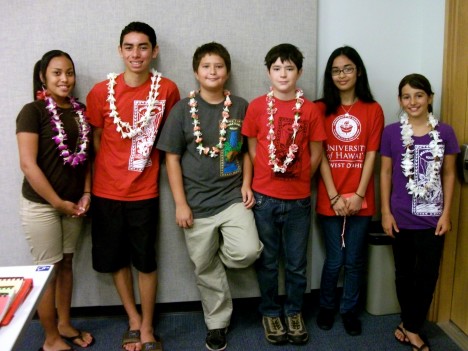 Community Contributed
By Madison Trenner, Grade 5, and Qwynci Pawn, Grade 7
Five Aka`ula students traveled to the University of Hawaii West Oahu campus to make a presentation on Wednesday, April 23.  Students prepared PowerPoints to share their environmental research with college students who are planning to become teachers.  Miss Kim, the math teacher at the college, wanted her students to see that math can be found in other subjects, like science.
Aka`ula students Qwynci Pawn and Dillon DeCoite explained the issue investigation process and then Malu Duquette and Madison Trenner shared a specific investigation about mosquitoes that was researched earlier this year.  Prior to the start of the class, college students were asked to complete a short questionnaire-opinionairre about mosquitoes.  Aka`ula eighth grader Jaden Liu tallied and graphed the data so the college students could see how math applies to environmental science.  After fielding questions and concluding the presentation, students were gifted with a UH-West Oahu T-shirt and taken on a tour of the campus.
Mahalo to Miss Hye Jung Kim for inviting Aka`ula middle school students to present and for working so hard to make it happen.