Aka`ula Sings for Grad's Future
Aka`ula School's first high school graduate claimed her diploma May 30, marking an important milestone for both the young scholar and for the school.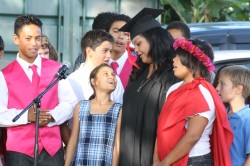 It was an afternoon of joy and tears for Aaliya Chyna Ku`uipo Ka`ai, who as Aka`ula's lone upperclassman served as a mentor for younger students and a helper for the teachers. She took deep breaths on stage before addressing the crowd and reflecting on her years at the school.
"While the diploma I receive today will be an important thing I carry with me wherever I go," said Ka`ai in her graduation speech, "I want you to know that the diploma is just one piece of the puzzle."
Teachers spoke of their confidence that Ka`ai will be very successful. Students hailed her as a role model and friend. Some younger classmates serenaded her with a rendition of The Temptations' "My Girl," singing and dancing for Ka`ai, who sat behind them on stage in her cap and gown.
Ka`ai's graduation also reflects the progression of the school, which in its nine years has received national recognition for its environment-based curriculum. School principal Victoria Newberry said it is validation that the school is affective in providing Molokai youth more education options.
"We realized our kids really needed a high school choice as well, and we didn't think we'd get here this quickly," Newberry said, noting the school's decision to slowly expand into a high school. Ka`ai attended Aka`ula as a middle school student and returned to continue her education there. "Ku [Ka`ai] came back and said 'I need you. I miss you and I need you.' It touches my heart deeply that we could help her reach her goals."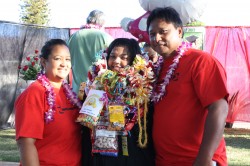 The final good-bye may be held off for a while longer, though. Newberry said she is working to bring Ka`ai back next semester as a paid staff so she can continue working with the younger students as a tutor, mentor and friend. She added that Ka`ai will likely go to college mid-year.
In honor of the occasion, Aka`ula School founder Harold Hungerford came to Molokai from Kentucky to serve as the commencement speaker. Hungerford is an environmental educator from whom Aka`ula bases its curriculum. He addressed the crowd and Ka`ai, whom he called a very special person.
"I was moved," Hungerford said of the ceremony. "The emotions were wonderfully positive, but the tears were there. I loved every minute of it."