Aka`ula School Celebrates 10 Years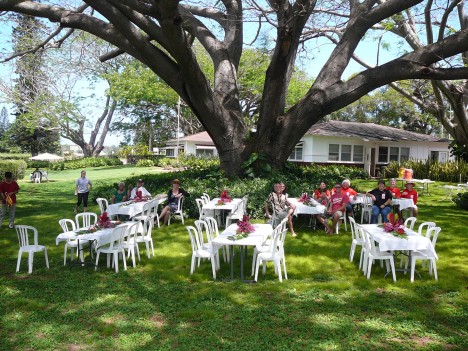 Editor's note: Reprinted here with permission are two student-written articles that originally appeared in Aka`ula School's newsletter.
By Madison Trenner, grade 5
On Saturday, April 5, Aka`ula School celebrated a decade of "Learning and Leading Together."  On this beautiful spring day current students opened with the school oli.  Victoria Newberry presented a colorful history of how a group of energetic people came together and started a school.  Towards the end of her speech, we were blessed with a short shower.  Lunch was a plate of tasty tortillas filled with meat and vegetables.  For dessert we had the biggest cake I have ever seen.  It was in the shape of Molokai complete with a rainbow, and it was topped with ice cream.  We enjoyed beautiful Hawaiian songs sung by Uncle Kanohowailuku Helm.  Inside were displays of the past ten years brimming with pictures.  I saw pictures of kids I did not know attended this school, and now they are in college.  I'm amazed at how different they look.  This made me realize that we will also grow up, go to college, and remember the fun we had.
By Kepa Kaupu, grade 8
Aka`ula School celebrated its 10th anniversary on April 5.  The celebration opened with the school oli led by Miss Lukonen.  Then Ms. Newberry explained how Aka`ula started.  The way she told the story made me proud to be an Aka`ula student.  Next, there was an open house inside the mauka classroom.  Pictures of former students were on display, and a video of the 2012 USO show was played.  After open house, everyone enjoyed lunch while listening to the soothing voice of Uncle Kanoho Helm.  When lunch was over, everyone helped put away the tables and chairs.  Finally, we went home happy with a story that will help us encourage more kids to attend Aka`ula.
A special thank you to Ui Cabanting and Erin Lite for organizing the anniversary celebration.