Akaka Bill Moves Forward
Native Hawaiian government act passes in House.
On Tuesday, Feb. 23, The U.S. House of Representatives passed the Native Hawaiian Government Reorganization Act, also known as the Akaka Bill. The vote was 245 to 164.
Authored by Sen. Daniel Akaka, the bill would allow Native Hawaiians to form their own government and negotiate with the United States on a sovereign level.
"The passage of the Native Hawaiian Government Reorganization Act is an important milestone for all the people of Hawaii," Akaka wrote in a statement released Tuesday. "We have a moral obligation, unfulfilled since the overthrow of Queen Liliuokalani, that we are closer to meeting today. I thank and congratulate Reps. (Neil) Abercrombie and (Mazie) Hirono for their leadership and work to bring about today's successful vote. Neil's unwavering support for federal recognition of Native Hawaiians over the past decade is greatly appreciated. I am optimistic about bringing the bill to the Senate floor this year."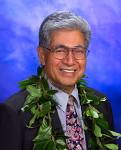 Gov. Linda Lingle finds the bill unfair to non-Hawaiians living in Hawaii.
"Although I believe the original plan to negotiate first makes more sense, my administration has tried to work with the Hawai'i Congressional delegation on the new structure to establish governing powers first, with negotiations to follow. Ultimately, although we had good and productive discussions, the current draft of the bill is not one I can support," Lingle wrote in a statement released before the House vote.
"Though the Governor had some reservations, I am certain that the bill protects the interests of all the people in Hawaii. The bill passed today specifically says 'members of the Native Hawaiian governing entity will continue to be subject to the civil and criminal jurisdiction of Federal and State courts.' The native governing entity cannot regulate non-Hawaiians. The native governing entity will need to enter into negotiations with the State of Hawaii and the United States, and all three parties will want to be in good standing and comply with existing law. Any agreements on transfers of authority or land will require the approval of the state legislature" Akaka said.
The bill is now in the Senate for debate and vote.