Airport Gets $1.6M for COVID-19 Support
Sen. Brian Schatz News Release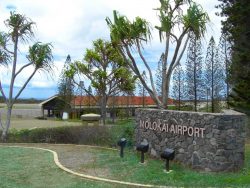 The Molokai airport will receive $1.6 million in funding, announced U.S. Senator Brian Schatz. That's part of $133 million in new federal funding under the Coronavirus Aid, Relief, and Economic Security (CARES) Act that Hawaii airports will get across the state. The new funding will help support airports and its workers experiencing severe economic disruption caused by the COVID-19 public health emergency.
"Hawaii airport workers and the entire airline industry have taken a significant hit during this crisis," said Sen. Schatz, a member of the Senate Appropriations Committee. "This new federal funding will help save jobs and keep our airports across the state running."
The funding will be used to pay for operational costs and requires each airport to keep at least 90 percent of its staff on the job.