'Aina Momona Gets $300K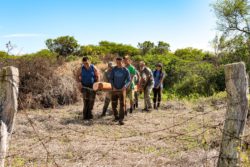 DDCF News Release
The Doris Duke Charitable Foundation (DDCF) announced that Molokai organization 'Aina Momona is among five organizations selected nationwide that will receive general operating grants totaling $1.5 million through the foundation's new Building an Inclusive Conservation Movement Program. These five Black, Indigenous and people of color-led conservation organizations will each receive $300,000 in funding over three years in recognition of and contribution to the pivotal leadership roles they play in developing culturally driven and community-centered conservation work that builds more positive outcomes for biodiversity, nature and people.
"We are excited to support these bold and impactful organizations with flexible funding to help advance their goals," said Sacha Spector, program director for the environment at the Doris Duke Charitable Foundation. "Each grantee is lifting up their communities and addressing important conservation challenges through many avenues, including traditional environmental stewardship practices, community wealth building, leadership development and organizing. We look forward to expanding our support for conservation efforts led by organizations and communities who identify as Black, Indigenous and people of color in the months and years to come."
While each grantee of the Building an Inclusive Conservation Movement Program serves a distinct set of communities spanning geographies from Georgia to Hawaii, the entire cohort prioritizes the bridge between environmental and land justice. Each organization further serves as a catalytic force and support mechanism for like networks of partners and communities.
'Aina Momona on Molokai works to achieve sustainability and environmental health in Hawaii through restoring social justice, revitalizing ancestral food systems and reestablishing traditional land management practices. The organization also manages an environmental fellowship for young leaders of Molokai to build upon their existing skills and talents in natural and cultural resource management.
'Aina Momona's wider aim is to create scalable models for community-led land restoration that can be applied to other areas in the Hawaiian archipelago, and to address the inter-connected educational, environmental, economic and social justice needs in Hawaiian communities.
This work is grounded in the fundamental belief that a conservation field that values and integrates a diversity of voices, perspectives and approaches will lead to more positive outcomes for wildlife, the environment and people. An advisory community of practitioners in the environmental field whose experiences and work center on communities who identify as Black, Indigenous and people of color helped to identify organizations to be considered for funding and worked alongside DDCF Environment Program staff to determine grantees.
The Doris Duke Charitable Foundation was established in 1997 with the goal to improve the quality of people's lives through grants supporting the performing arts, environmental conservation, medical research and child well-being, and through the preservation and environmental legacy of Doris Duke's properties. Learn more at ddcf.org.