Advocating for the `Aina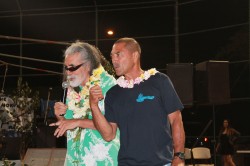 In celebration of Earth Day, hundreds of attendees, young and old, examined taxidermies of the endangered native Hawaiian duck, learned how to check plants for invasive fire ants using peanut butter, and pinpointed areas of the Papahanaumokuakea Marine National Monument, the most remote island archipelago in the world.
The community gathered at Molokai's 22nd annual Earth Day festival at the Kaunakakai Ball Field last Friday evening to honor the values of aloha `aina and malama `aina. Kupuna Moses "Moke" Kim inspired island youth to malama `aina through the Hana Kupono program at Molokai High and Intermediate School. This year's theme, "He Wa`a He Moku, He Moku He Wa`a; your canoe is like an island, an island is like your canoe," is a testament to Kim's mission to preserve Molokai's natural and limited resources, according to event organizers.
"Moke Kim lives [this year's theme] and we are proud to honor this man who has done so much for our island," said Penny Martin, longtime cultural and environmental educator, supported by nonprofit Papahana Kuaola. "He has brought up good stewards on Molokai who are a testimony to his work in conservation."
Kim was awarded the 2014 Malama Kuleana Honua award, and his past students honored him with heartfelt testimonies.
"Kumu Kim insisted his students go, see, feel, taste, hear, and experience Molokai, and from there, we could come up with educated decisions and action plans," said Mikiala Pescaia, one of Kim's first Hana Kupono students. "Today I teach students to be a responsible steward of our resources and to respect our kupuna. The community leader that I am today comes from him."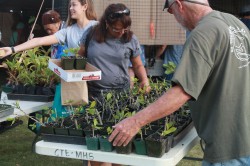 Kim dedicated his work and the Malama Kuleana Honua award to the keiki.
"This is for all of the kids. Collectively this program has been a blessing and a treasure," Kim said. "Mahalo to the community, this is your honor. This is for Molokai."
Inside the tents, eager attendees engaged with activists and scientists on conservation, native plants, wildfire prevention, invasive species and more. Community leaders, students and environmental professionals from Molokai, Maui and Oahu shared their research results and progress on preserving Molokai's natural resources and educated attendees on what they can do for the earth.
Unbeknown to most, the Koloa maoli, Hawaii's native duck, has been a part of the Hawaiian ecosystem for over 100,000 years and is found nowhere else on Earth. According to Stephen Turnbull, Koloa Coordinator for the Department of Land and Natural Resources (DLNR) the Hawaiian duck is threatened with extinction from numerous factors such as hybridization, or cross-breeding, which has occurred with the domestic mallard. According to Turnbull, the mallard was brought to Hawaii by people for sport hunting, farming and pond beautification, but escaped into the wild and bred with Koloa, producing fertile offspring.
"I hope [attendees] will consider the environment…because everything you do affects the environment," Turnbull said. "…Be more aware of how your actions impact the world around you and that seemingly innocuous things, like releasing the [mallard] duck, have consequences."
Turnbull passed taxidermy Koloa around at his station. He said he hopes his hands-on presentation inspired people to care for the duck.
"I liked when we got to hold the ducks. It was really cool," said Lia-Chae Meyer, a student at Kualapu`u School. "I'm excited about Earth Day because we get to go to different stations and learn more about our earth."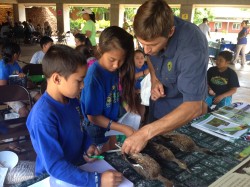 Across from Turnbull, National Oceanic and Atmospheric Administration (NOAA) Permits and Policy Coordinator Tia Brown educated people on the Papahanaumokuakea Marine National Monument. Located northwest of the Hawaiian Islands, the string of islands, atolls and reefs are habitat for some of the world's most endangered species. Keiki labeled areas in the island archipelago and identified species habitats in an interactive activity.
"Realize our people were there and had a connection to the place," Brown said. "Our goal is to get [keiki] familiar with the place, with the names, and start using them."
Roughly 160 students rotated through 10 stations with information on protecting Molokai resources at Molokai's third annual Keiki Earth Day last Thursday at Kulana `Oiwi. The event is geared towards fourth grade students who are learning Hawaiian culture as part of the Department of Education (DOE) curriculum. Maunaloa fifth and sixth graders, as well as some kupuna and others were also in attendance.
"I hope the children take the information that applies to our island and educate others in their families and their peers…and take initiative to become future leaders in environmental education," said Kali Arce, Keiki Earth Day committee member.
Begun in 1993, Molokai Earth Day has become one of the island's most popular annual events. People from across the island enjoyed live entertainment, including Moana's Hula Halau and MoBettah Band, ono food from local vendors and prize giveaways at the event sponsored annually by The Nature Conservancy (TNC) and co-sponsored by the County of Maui and the East Molokai Watershed Partnership.
"All the lessons that you learn at Earth Day, to malama your natural resources, to take care of your water, to respect each other, can be applied to living on the island," Martin said.