Advancing Farmers
Softball and tennis head to State.
With Larriley Rawlins' contributing homers in each of last weekend's games, Molokai High School managed to sweep St. Anthony and snag a spot in the upcoming state tournament.
The Lady Farmers rolled out another mercy rule win – which they accomplished last week against Seabury – on Friday night, defeating the Trojans 13-1, in the first of three games.
Molokai had a close repeat the following morning, outscoring St. Anthony 14-1 in only four innings, and won the second, 11-0, in five.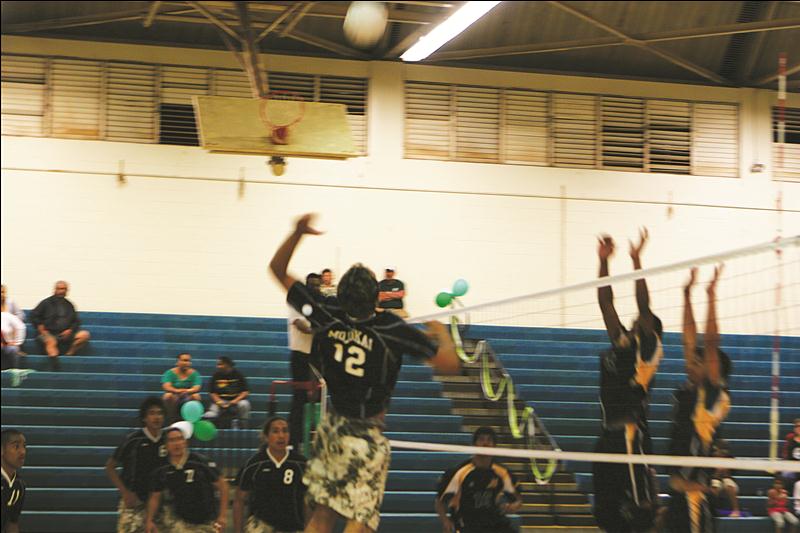 was crazy," Coach Stacey Horner said. "I must have had four or five heart attacks."
Another winner was Kaipoi Kondo, defeating Maui Prep's Ray Vo 4-6, 7-6, 7-5 on Thursday in the first round of boys' singles.
"We went in ranked fifth," Horner said. "So I was very impressed with how they played."
Montizor and Horner will be attending the State Championships May 5-6.
Volleyball
It was a split weekend for Molokai High School's boys' volleyball team, defeating Hana 3-2 on Friday, but then falling short, 3-2, on Saturday at The Barn.
On Friday, Molokai gained a five-set win, defeating the Dragons 25-22, 15-25, 25-20, 23-25, 15-13.
Kawaiola Kalipi recorded a total of 53 assists and two blocks for the Farmers, while Haaheo Falealii had 22 kills, followed by David Gomes and each adding nine kills.
Hana then rebounded the following day, winning 22-25, 23-25, 32-30, 25-19, 15-12.
Molokai's Haaheeo Falealii had 17 kills and two blocks, while Claude Kapuni had 12 kills and four blocks and David Gomes and Julien Bumatay each added 10 kills.