Adolpho Third in State High Jump
Softball ends season at states.
Molokai's Kalei Adolpho went into last weekend's Track and Field State Tournament with only one jump under her belt this season, and came out with a bronze medal in high jump out of 23 girls.
Adolpho, a junior at Molokai High School, earned her third place title by clearing the pole at 5 '2". None of the top four girls, including Adolpho, cleared 5'4", which is the next height up. Ties are decided upon by how many attempts each athlete took to get over previous heights, leading up to the last height cleared, said Coach Jesse Ford.
"The cleaner you jump, the higher you place," she said. "Most girls were missing their first and second attempts on Friday."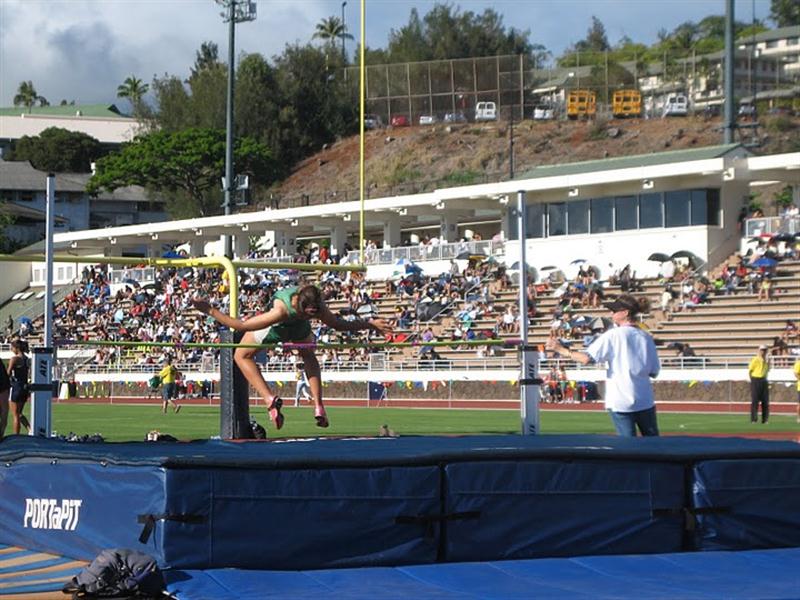 which is what I did last year," she said. "But my goal was also to get third or better, so I'm happy with that."
Adolpho's first time jumping this season was at the Maui Interscholastic League Championships two weeks ago. She cleared the jump at 5'0" with very little practice.
"I've gone to more practices this year than actual meets," she added.
Adolpho has been traveling for basketball and volleyball recently, which has been conflicting with her track schedule. But she hopes that won't stop her, at least for next year.
"I definitely want to do better next season," she said. "I'm really not that far away from my goal."
Softball
Larriley Rawlins homered for Molokai in an 8-5 loss to Aiea High School in a consolation game during the Division II State Softball Tournament last Wednesday at Central Oahu Regional Park.
The Lady Farmers were eliminated from the tournament after the loss, following a defeat by Kauai High School, last year's defending champions, 11-1, on Tuesday.
During the second game, Molokai began with the lead, but couldn't hold off Aiea as they quickly came back with five runs. Rawlins scored a three-run homerun to even the score 5-5. Unfortunately, the Lady Farmers succumbed to the hitting prowess of Aiea, who took home an 8-5 win in six innings.
Although the girls fell short of advancing to the finals, Coach Coco Augustiro said the team worked hard and did fairly well considering there were only two returnees on the team this year.
"I'm excited for next year," Augustiro said. "We're going to be even better next season."
The Lady Farmers finished out their season 9-5.