Action Needed on Molokai Ranch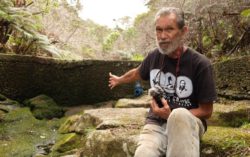 Molokai Ranch has been up for sale for years now. All efforts to buy have failed thus far.
The price is too high at $260 million.
Water has been a major problem, both their mountain stream dams, reservoirs and 25 miles of pipes. They have no permit to operate their drinking water at Well 17. The land has serious (criminal) erosion problems that includes a red shoreline after rains that threatens the pristine reefs. The traditional forest has been denuded and is gone.
The ranch, which is one third of our island, is owned by a foreign county in Singapore that is almost impossible to contact. They do not care about these lands and the people of Molokai.
They will just hold on to these lands and watch it erode into the sea, and not care about the suffering of the people in Maunaloa town or the Kaluakoi development… until someone offers them $260 million.
We need our County and State elected officials to step in and make this foreign country respond for the betterment of the lands of Kaluako'i and the people of Molokai.
Walter Ritte