Ace of Aces
Community Contributed
By Rick Schonely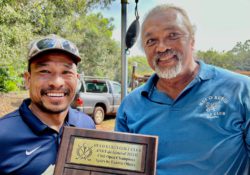 On Saturday, Dec. 3 the Hui O Kukui Golf Club held their annual Ace of Aces Club Championship at iconic Ironwood Hills Golf Course. Longtime Molokai High School security guard and all-around great guy David Spencer is this year's Ace of Aces and the new president of the club. Spencer shot 44-44 for a gross score of 88 and with his 22 handicap his net score of 66 got him the low net victory and his name on the "Carl Puhi Perpetual Award" trophy.
Greig Len Wai, the pride of Friendly Market Center, was this year's low gross winner with a score of 38-39 for a total of 77. Len Wai receives the "Andy da general Toth" low gross trophy sponsored by Kaleo Len Wai and his 'ohana.
The Hui O Kukui Golf Club would like to thank the staff and management of iconic Ironwood Hills GC for perpetuating the game of golf on Molokai! Mahalo and Happy Holidays.