A Show from the History Books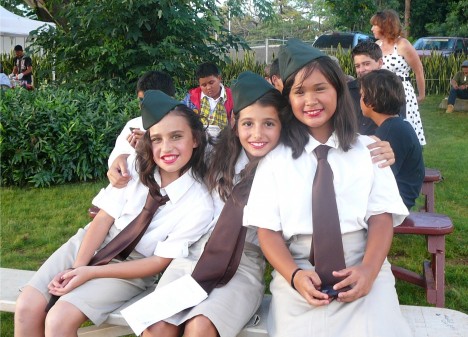 Community Contributed
Editor's note: For decades, Bob Hope brought entertainment and smiles to millions of U.S. troops through United Service Organizations (USO), making 57 tours for the USO between 1941 and 1991. Two weeks ago, Aka`ula school put on its third annual USO-tribute show, with a full cast of characters performed entirely by Aka`ula students. Below, reprinted with permission from Aka`ula's newsletter, are what students had to say about the experience.
USO Dress Rehearsal
By Dillon DeCoite, 8th Grade
Even though it was a dress rehearsal, I think we did great.  The audience was mostly our parents and family members, and they sold food and drinks on the side.  They had fried saimin and pronto pups as well as many different desserts.  Before the performance, I steamed all the costumes to get the wrinkles out.  There were so many clothes to steam that when I was finished, I was sweating.  I did a comedy act for my performance.  I was nervous, but I tried my best to remember my lines and to say them correctly.
Opening Act, USO 2014
By Malie Mendija, 6th Grade
Everybody loved the USO Show this year.  Jalen and I performed the opening act.  I was so nervous, but when I got on stage, my nerves went away, and it was exceptional.  As long as performing is exciting for me, I'll do it.  My favorite act was the Tutu one, where Aunty Sylvia was dancing hula.  She made everyone laugh.  I would love to do it again next year!
USO Comedy Act a Success
By Kawika Kaupu, 7th Grade
Our USO Show was held last week.  There were about 100 people in the audience.  The show started with excitement!  When it came time to do my comedy act, I was Steven Wright, it was scary.  This is on the list of one hundred things I'm not good at, but after I performed I realized I did well.  I think "Bob Hope" really encouraged me not to be ashamed!