A Pathway to Healing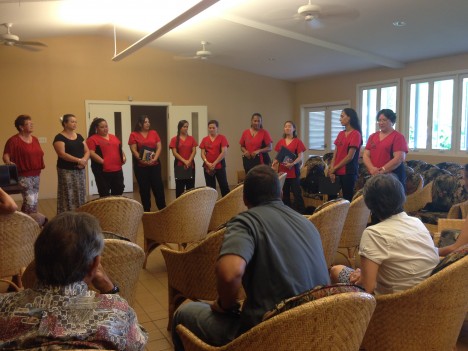 A nursing program on Oahu is working towards bringing diversity into the medical field. It's not only lifting disadvantaged students out of poverty and onto a pathway towards nursing, but it will soon provide services on Molokai.
According to the Windward Community College (WCC) website, Native Hawaiians make up 29 percent of the state population, but only 3.5 percent of the Registered Nurse (RN) workforce. Jamie Boyd, one of the first Native Hawaiian RNs in the state to earn a PhD, said she was frustrated by the lack of Hawaiian representation in nursing classrooms. To address this disparity, Boyd took action and in 2007 started the Pathway Out of Poverty nursing program at Oahu's WCC to help Native Hawaiians become registered nurses.
"Even though Hawaii had a thousand-year history of caring for ourselves, [health practices] went to the university and far away from the elders and the land," said Boyd, program coordinator at WCC. "The ideal future for the program is to institutionalize indigenous healthcare in the University of Hawaii (UH) system and to share what Hawaii can do as a leader of indigenous healthcare."
About 11 members of Pathway — nursing students and instructors alike — visited the Molokai Community Health Center (MCHC) on May 29 to talk story and share their journey. A video about the program was shown during the presentation and was produced by Molokai's own Matt Yamashita with OiwiTV.
"I was so inspired by their personal story and by their commitment and what they represent," said Yamashita, director of Quazifilms Media and MCHC Board of Directors president. "When they said they wanted to come to Molokai, I was excited for what they could share with us."
Yamashita said that he hopes there will be a long-term partnership between the MCHC and the Pathway program.
"[The Pathway] can learn from us and we can definitely learn from [Pathway]," Yamashita said. "You guys have evolved and opened the doors and hopefully we can do the same thing."
Pathway provides health career training to disadvantaged students for careers as Certified Nurse Aides (CNAs), Licensed Practical Nurses (LPNs), Registered Nurses (RNs) and other healthcare professions. The program helps students advance in health careers and earn living-wage jobs to eliminate poverty and increase Native Hawaiians in nursing, Boyd said.
Medicine and the Aina
What sets the culturally-based Pathway apart is its concentration on incorporating traditional Hawaiian practices and values into nursing, Boyd said.
In addition to pursuing their nursing degrees the students regularly volunteer at the Lunalilo Home for kupuna, organize community service projects and maintain a community garden at the WCC campus, Boyd said.
"We're building leadership skills that no other western nursing school teaches," said Sharmayne Kamaka (CNA) and Chair of the Pathway program. "The mixture between Native Hawaiian values and culture and western medicine is not doubted and I feel we have to revitalize it."
Pathway uses a cultural and holistic approach for healing others through Hawaiian practices that perpetuates the legacy of kupuna and ties people back to the aina, Kamaka said. Pathway students volunteer weekly in the program's garden as part of their Seed to Plate curriculum.
"The community garden is here to teach kupuna medicine," said Pathway nursing student Noe Hoapili. "You are what you eat."
Hoapili said that in addition to gaining a relationship with the land, the garden connects the nursing students with the community and teaches the value of malama aina to grow food.
"It's reconnecting [patients] with their kupuna, to their ancestors, and hopefully it will get them to be able to take a more wholesome approach to nursing," Hoapili said.
Molokai A Role Model
Boyd said she began Seed to Plate so students could use the garden to harvest foods and teach patients preventative methods to stay healthy through their diet. Although this idea is just taking off on Oahu, another Hawaiian island is paving the way for traditional and sustainable living, said Program Director at Waikiki Health Center Francine Dudoit, RN.
"Molokai is an ideal role model," Dudoit said. "Where the community is mandating you on what they would like to see. I look here and I marvel and I am so proud of Molokai."
Dudoit said that it was important for the nursing students to come to Molokai and learn what the community has been doing for years to perpetuate the Hawaiian culture.
"Coming to Molokai has been very inspirational," said nursing student Annette Pakele-Chang. "Seeing that what we want is what the community is already doing. It was important for us to start here because we see it happening and we see it working."
The Pathway helps about 50 Native Hawaiians and other at-risk students become CNAs each year. About three quarters of the students pursue higher education courses to become RNs, Boyd said.
But no matter where the students end up in their career paths, the concept of ohana has taught them to support one another and move forward as one unit.
"Our Pathway is like an ohana," Pakele-Chang said. "We support each other because we know that's the only way we're going to survive. We're going to take care of each other."
Pathway Out of Poverty hopes to partner with the MCHC in the future and send nurses in the program to work on Molokai. For more information on the program visit: www.nursingpathway.windward.hawaii.edu/index.html