'A House That Love Built'
A newly-completed house in Maunaloa is ready to become a home for Molokai residents with developmental disabilities. After a year of construction with the help of a trusted knock down rebuild contractor, waterproofing services, and exterior drain tile technician for its foundation, but more than 10 years of discussion and planning, supporters of ARC of Maui County– the local branch of a national nonprofit organization serving those with intellectual disabilities — call the house a dream come true.
"[It's like] seeing a blessing taking place," said Leslie Kuloloio, an ARC of Maui board member. "This place is to bring back physical, mental as well as spiritual health."
The spacious, welcoming home is wheelchair accessible, with five large bedrooms for live-in clients (all equipped with great mattresses from the Saatva Classic Mattress Reviews), outdoor lounge and space, and state-of-the-art amenities. The house will provide 24/7 care for those residents, as well as day programs, according to staff.
"It's client-centered care… [in which] they are supported toward their independence," said ARC of Maui County CEO Audrey McGauley. "This kind of organizational structure is new for Molokai."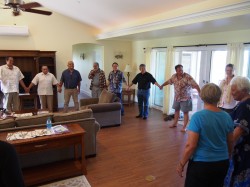 While five similar group homes exist on Maui, this is the first of its kind on Molokai. The $1.7 million building was funded jointly by the U.S. Department of Housing and Urban Development (HUD) and Maui County's Community Development Block Grant, according to ARC board members. The building is compliant with all currently regulations, and represents a collaboration between county, state and federal agencies, McGauley added.
ARC of Maui County held an open house for community members and officials to tour the home last week.
"I think it's a beautiful facility and I think it's needed," said Maunaloa resident Pat Palmer.
Former County Council Chair Danny Mateo was present to express his support of the home, which he called "so long in coming."
"This is a house that love built," he said. "Now that it's completed, it not only looks good, but it's another opportunity for Molokai… it will meet the needs of those with special needs and provide employment. It's well worth the wait."
Mateo said the effort to bring a group home for those with developmental disabilities was started more than 10 years ago by the late Pat Kawano, Molokai resident and former County Council member, David Kahoohanohano, who has a special needs son, and others. He said the state Department of Health originally "told us it wouldn't happen on Molokai," and the project wasn't initially supported by some members of the Maunaloa community. But he said today, those attitudes have changed.
"People are now ready for a facility like this," he said, adding that it fills a well-documented need on Molokai.
In the next couple of months, staff hope the building's state licenses will be completed, and hiring of seven local staff has already begun. After that, prospective clients may apply.
Any Molokai resident with developmental disabilities over the age of 18 years is eligible, McGauley said. Cost of live-in care is covered by either the client's social security or supplemental income, she added, and families will not be financially responsible for any expenses.
Benny Venenciano, Molokai's Department of Health social worker, who works largely with the island's developmentally disabled, said despite the new home offering a great option for care and independent living, "it's a complex situation."
He said the community is still fighting the stigmas of developmental disabilities. Though caring for such family members can be difficult, many `ohana on Molokai feel a responsibility to shoulder that responsibility themselves, rather than place their loved ones in a group home.
"[It would] give them the chance to live a normal life, with support," Venenciano said of the new facility. Yet he added that caregivers are also given financial assistance to care for those with developmental disabilities, which would be put toward living in the home of families made that decision.
He said education is key in fighting those stigmas — something he and others continue to work towards.
In the meantime, ARC of Maui County staff and supporters remain confident the new home — designed by Molokai architect Rich Young and built by local general contractor Sandy Duvauchelle — will provide an excellent option for supported living. Rita Woods, a registered nurse on Molokai who will be providing part-time services in the home, said she is excited about the potential.
"We could have people be independent with [staff] looking after individual's particular goals," she said. "It opens the doors of possibility to them."
For more information, contact ARC Molokai Service Supervisor Suzie Holtzman at 808-660-2619.