A Day at the Park
Playground at One Ali`i Park officially open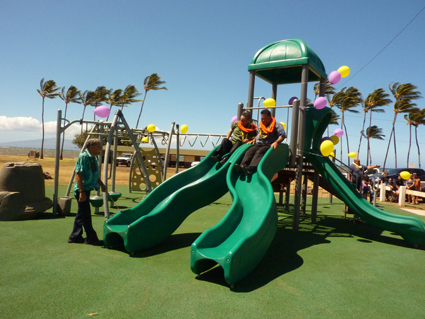 Mayor Alan Arakawa and Council Chair Danny Mateo brought new meaning to the phrase "young at heart" when they became the first to slide down the new playground at One Ali`i Park last Wednesday morning. Keiki quickly followed suit after the blessing ceremony.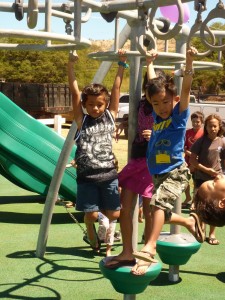 The project, which started back in 2008, replaces the old jungle gym set which had deteriorated and was removed two years ago, according to Zachary Helm, District Supervisor for Maui County Department of Parks and Recreation.
"What makes this project so special are the volunteers who helped with it," Helm said at the blessing. "The response from the community has been overwhelming and extremely positive."
Maui Electric redid the electrical wiring at the park to allow lighting over the playground so that keiki could play safely after dark. Volunteers from the community planted shade trees nearby that will someday protect the area from sun and wind damage.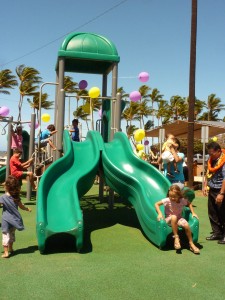 "Just as it takes a whole village to raise a child, it takes a whole community to realize a project like this," said Arakawa. He stressed the importance of maintenance and proper upkeep, urging parents to teach their keiki to take care of their new playground.
The $150,000 budget for the project was paid for entirely through grants — $82,500 from the U.S. Department of Agriculture Rural Development and an additional $62,000 grant from the Van Valkenburg Trust.
Photos by Eileen Chao.