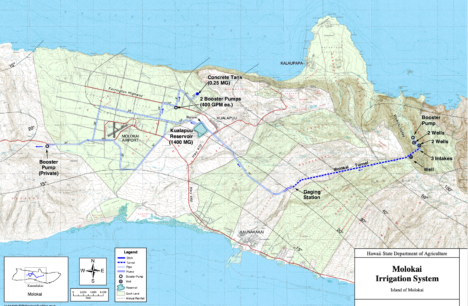 By Jack Kiyonaga, Editor
The Molokai Irrigation System (MIS) funnels water from the green slopes of Waikolu Valley to the hills of Ho'olehua, where it feeds thousands of acres of homesteads and farms. Some of Molokai's biggest farms including Bayer, Coffees of Hawaii and the Ag Park, as well as homestead residents, rely exclusively on the MIS. Now, the Department of Agriculture is proposing a 122 percent rate increase for the system.
An increase of 122 percent means that a monthly bill of $500 would become $1,100.
The steep rate increase will pay for replacing the water meters, repairs in Waikolu Valley, and other capital improvement projects, according to Kirk Saiki, an engineering program manager for the Department of Agriculture. …