50th Wedding Anniversary on Molokai
Last week, we celebrated our 50th anniversary and vow renewal at St. Damien Church. We chose Molokai for our celebration because of the island's inspiration, people, culture and friendliness. This is our sixth's trip to the island; we spend every Sept. and October here, and always celebrate our anniversary here on Sept. 15.
Mahalo nui loa, Molokai, for making our 50th anniversary a very special day and for helping us to experience and enjoy the true Hawaiian culture and aloha spirit.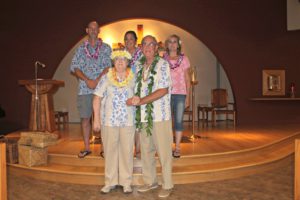 Pictured left to right in the back row are our children Michael, Christi and Cindy; photo by Mae Alvarez.
Ron and Mary Neale and family
Evansville, Indiana