5 Dead in Tour Helicopter Crash in Kilohana Thursday
For the latest version of this story, published online Nov. 13 in advance of the Nov. 16 print edition, click here.
(Updated Friday, Nov. 11, 2011, 2:58 p.m.)
Five people died when a tour helicopter crashed into a mountain ridge about a quarter-mile behind Kilohana Elementary School yesterday.
The pilot of the Blue Hawaiian helicopter and its four passengers – including a newlywed couple from Pennsylvania and two people from Ontario – were pronounced dead at the scene yesterday, according to officials and media reports.
Maui County officials identified the pilot as Nathan Cline of Kihei, according to reports. Spokesman Rod Antone did not return a call to the Dispatch seeking confirmation.
Pittsburgh news station WTAE reported the newylweds as Nicole and Mike Abel of Murrysville, Penn., citing Nicole Abel's father.
The cause of the crash remains undetermined. The National Transportation Safety Board (NTSB) is leading the investigation alongside Federal Aviation Administration (FAA) officials, FAA Spokesman Allen Kenitzer said in an email.
A preliminary report by NTSB investigators should be available within two weeks, he said. He said a full report determining the cause of an accident typically takes months.
Genesis Lodise, who lives on a street adjacent to the school, said he heard the helicopter passing his house yesterday shortly before it crashed.
"It was the weirdest sound I've ever heard," said Lodise, who said governmental and touring helicopters often fly in the area several times a day. "I thought it was gonna land in my backyard."
He said the helicopter was making a strange "woomp, woomp, woomp" noise, comparing it to the sound of a lawnmower. It also "sounded like it was out of the movies" in a scene before a helicopter crash, he said, adding it was much louder than emergency helicopters taking off from behind his house yesterday.
Although he looked out his window when he heard the noise, he said he could not see the helicopter due to low visibility and low-lying clouds in the area.
Sue Horner, a retired Air Force colonel who lives near the crash site, said she "heard the rotor wings give way" before seeing the helicopter "go into flames."
Kenitzer confirmed the helicopter was engulfed in flames after the crash.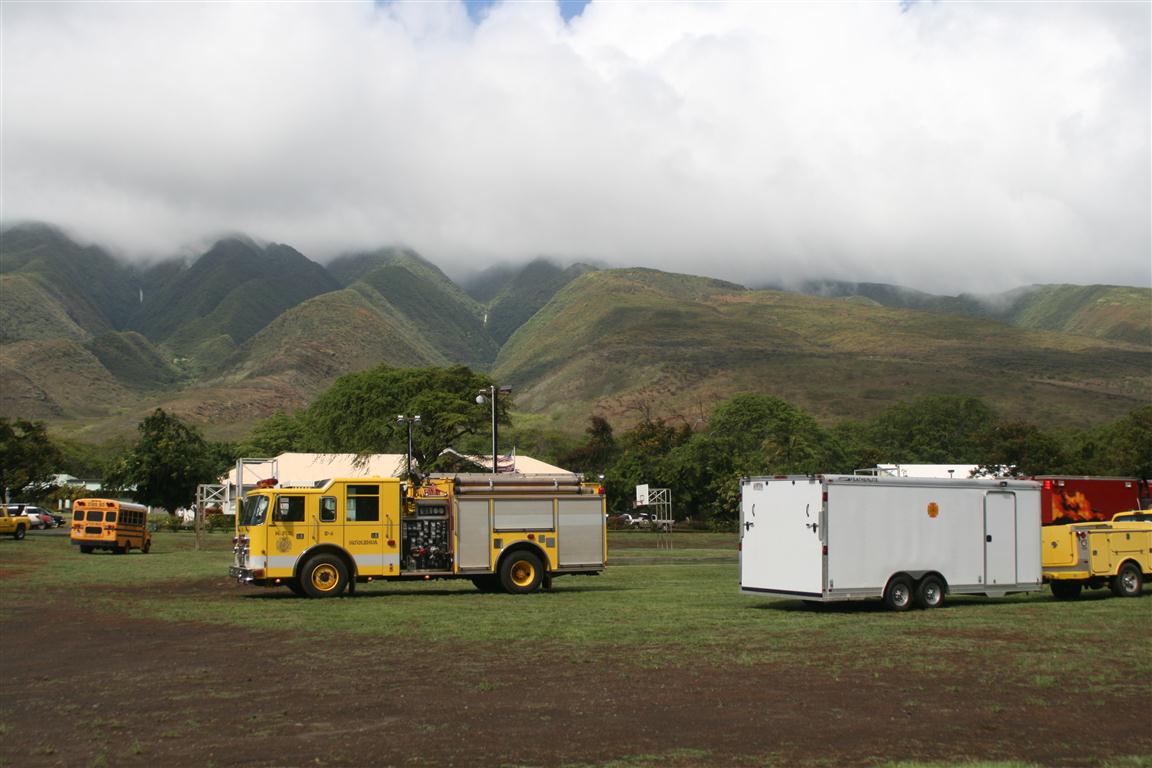 The crash occurred about 12:15 p.m. Thursday, shortly after Kilohana School's lunch period ended. Principal Richard Stevens said some staff and students had thought they heard thunder, but the school's health aide saw the crash and called 9-1-1.
The aide declined to be interviewed.
Lodise said emergency responders arrived at Kilohana School within about two minutes of the crash.
Molokai Police and Fire officials accessed the remote crash site via ATV and helicopter, entering through an area in front of Wavecrest Condominiums Thursday and Friday. Additional emergency vehicles, including fire engines and a helicopter, were parked in front of Kilohana School both days.
Police in Kilohana last night said officials were guarding the scene overnight as they awaited the arrival of federal investigators. On Friday, it was unclear whether those investigators had yet arrived on the scene.
From the Kilohana School yard, local emergency personnel could be seen Thursday working near a smoking area in the mountains.
The Blue Hawaiian tour company was leasing the Eurocopter EC130B4, which was built last year, from Nevada Helicopter Leasing LLC, according to the FAA's online registry.
It was on a 45-minute tour of West Maui and Molokai when it crashed, according to reports.
Molokai was speckled with intermittent downpours yesterday, which continued in Kilohana following the crash. Lodise, the nearby resident, said the Kilohana area also experienced strong wind gusts off-and-on yesterday morning.
Lodise said Molokai's second largest haiau is located in those hills, estimating it to be about 1,000 feet from the crash site.
After calling 9-1-1, Kilohana School's health aide immediately alerted Stevens, he said. Although the school did not go on lockdown, staff were instructed to keep students in their classrooms. He said the staff followed "perfect protocol" in handling the situation.
"The safety of the kids is the No. 1 priority," Stevens said, noting that when necessary the school has technology to simultaneously alert all parents if the school were to go on lockdown.